As part of its new partnership with the Israeli company Magic Software, the Jena-based digital agency dotSource is expanding its portfolio for small and medium-sized clients. The Magic xpi integration platform makes it easy to integrate different components of a system landscape, providing a user-friendly, digital interface for businesses.
Even the work processes of small and medium-sized companies are largely digitised these days. Whether it is an online shop, customer data management or an ERP system: a mix of different software solutions is often used to digitise marketing, sales, services and internal business processes. However, if communication between these systems is not guaranteed, this results in data silos that can make work processes more difficult or even block them. In order to make full use of the potential of digitalisation, tailor-made integration solutions are required.

Leveraging the Potential of Digitalisation with Efficient Interfaces

This is where the new partnership between the Jena-based digital agency dotSource and the Israeli software company Magic Software comes in. The latter offers an efficient data hub that makes it possible for different digital solutions to interact. The Magic xpi integration platform is characterised by a high degree of connectivity of a wide range of systems. Both cloud-based solutions and on-premise systems as well as hybrid software are supported. Data sovereignty remains with the client so that all data protection and compliance requirements can continue to be met.

This makes it possible to set up a customised system landscape at a reasonable price, especially for medium-sized companies. The Magic technology sees itself as a no-code platform. After in-depth training, expert staff without any programming knowledge will also be able to use the system.

dotSource Expands Its Portfolio for Medium-Sized Companies

The strategic partnership with the Israeli software company provides added value for dotSource, as it allows the digital agency to expand its product portfolio in terms of platform integration for clients from the SME sector. As a certified Magic partner, dotSource supports clients in their integration projects – from consulting, concept creation and component configuration to interface management with Magic xpi. Magic xpi is often used in combination with other long-standing partners, such as Salesforce or SAP.

»We are pleased to have established a partnership with such a creative digital agency that coordinates strategy, concept creation, development and implementation as well as marketing to customers in a holistic project process,« Stephan Romeder, CEO at Magic Software Enterprises (Deutschland) GmbH & VP Global Business Development, comments on the partnership. »With dotSource's extensive consulting and implementation expertise as well as our flexible digitalisation and integration platform, clients receive a digital service package that enables them to shape the future using agile methods and their own resources.«

About Magic
Magic Software Enterprises is a global provider of powerful and flexible end-to-end, on-premise and cloud-based integration solutions as well as low-code application development platforms. With over 30 years of experience, 24 regional offices, millions of installations worldwide and strategic alliances with global IT leaders, Magic enables its customers to seamlessly adopt new technologies and maximise business opportunities. Magic works closely with its customers and thousands of business partners in more than 50 countries to accelerate their business development.

About dotSource
dotSource, that's over 300 digital natives with one mission: designing digital customer relations. Our work rises from the connection of humankind, space, and technology. We've been supporting businesses in their digital transformations since 2006. Whether e-commerce and content platforms, customer relationship and product data management, or digital marketing and artificial intelligence: our solutions are user-oriented, emotional, targeted, and intelligent. We see ourselves as a partner of our clients, whose special requirements and needs flow into the project straight from the first idea. From strategy consultation and system selection, to branding, concept creation, UX design and conversion optimisation to operation in the cloud – together we develop and implement scalable digital products. Our approach relies on new work and agile methodologies such as scrum and design thinking. Companies like Esprit, EMP, BayWa, Axel Springer, hagebau, C.H.Beck, Würth and STABILO trust in our competence.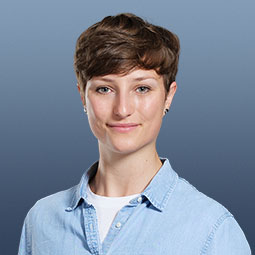 Want to learn more? I'm looking forward to hearing from you!
Lisa Hager
PR