CMS: The More Employees, The More Requirements
Whether it is TYPO3, Magnolia, Contentful or Salesforce CMS: CMS solutions can be used in many different ways. Today it is no longer just a matter of creating corporate websites, multilingual web portals or online shops with content commerce functions. It is about merging these elements and providing customers with a convenient digital experience across all touchpoints.
A CMS thus helps to publish content on all channels from websites to social media and to combine content and online shops on complex content commerce platforms. The more complex the outlined customer journey, the more employees are involved. The requirements for the CMS grow accordingly.
CMS: Finding and Implementing the Right Tool Through Careful Evaluation
In order to find the system that convinces in every aspect and fits in perfectly with your online shop and your system landscape, the requirements have to be evaluated first: Which CMS interacts seamlessly with your shop software? What should the CMS be able to do in terms of internationalisation capability and personalisation? Which possibilities of SEO optimisation and social media connection are to be integrated? How comprehensive should the rights and role management and the workflow or editing be?
Our discovery workshops analyse the existing structures and ongoing processes in your company. Together with you, specific use cases are developed so that the new CMS can be used successfully.
For the CMS selection, we then define and prioritise evaluation criteria together with you. These criteria can be classified into the following categories:
Functionality
Technology
Costs
Client and project scope
Individual requirements
Afterwards, every system that is suitable for your company will be evaluated for each criterion. A score value ultimately determines an appropriate CMS and a shortlist is created.
In combination with corresponding recommendations for action, we can optimally respond to your requirements and problems. Thanks to our holistic approach, we can support you in the implementation and daily use of the system beyond the system selection.
CMS: Content Commerce with the dotSource All-In-One Package
dotSource is your partner for high-quality content management. We offer:
Consulting, concept creation and implementation from one source
Individual configuration of your CMS
Modern user experience design
A Selection of Our Clients We Have Supported in Choosing a CMS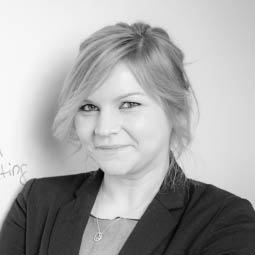 Want to learn more? I'm looking forward to your questions!
Jessica Kopyto
Account Executive
Digital Business