Delight your customers with high-quality, up-to-date content.
The importance of creative content for customer acquisition and retention is indisputably high. In the competition for user attention, companies, products and brands must be presented in an exciting way over and over again.
Therefore, flexible, fast and easy creation and management of content is one of the central requirements for a content management system (CMS).
For many companies, an international web presence is one major reason for a CMS change. Do you want to translate a website into different languages or need individual content for each language version? In our strategy workshops, we provide the ideal basis to make the international distribution of your content child's play.
The specific objectives to be achieved by integrating a CMS are defined and recorded in the strategy phase. With our holistic consulting process, consisting of a discovery and an analysis phase, we help you to attain this goal. We examine your organisation, processes, systems and use cases in various workshops, and develop or evaluate strategic options for your company.
What do you want to achieve by integrating a CMS?
Replacing an outdated or proprietary CMS solution
Flexible content creation and management
Linking content and commerce
Streamlining the system landscape / reducing complexity
Target-group-specific delivery of content
Internationalisation
Intra-corporate information platforms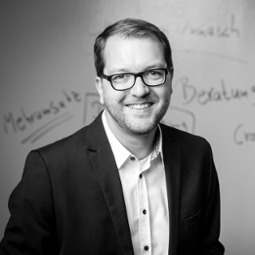 Want to learn more? I'm looking forward to hearing from you!
Christian Onnasch
Account Executive
Digital Business