Design of your CMS website and integration into your system landscape
CROSS-CHANNEL USER EXPERIENCES
If you want to create a website with a content management system (CMS), it's all about optimally presenting your content on all channels and devices. An appealing design with a functional layout matching your message forms the basis for this project.
By means of wireframes, our design experts create your website's information architecture step by step. The results of the strategy workshop - your individual wishes as well as your users' demands and needs - are taken into account at any time.
TECHNICAL IMPLEMENTATION OF A CMS PROJECT
For the cost framework it is often decisive which standard elements of your CMS can be used and which elements must be developed individually.
Interactive screen designs ensure that you can visualise the website's functionalities. Your needs can and should also be included here at any time.
Parallel to the design phase, a development team can check the design`s usability by means of prototypes to ensure an optimal solution for you. That way, we develop a website that optimally depicts your company, brand and product world.
Our development team also takes care of integration with third-party systems, such as email marketing or e-commerce systems.
Creating websites with dotSource - the complete package for your perfect presentation
Design: Consulting, conception and implementation
Adjustment and individual configuration of your CMS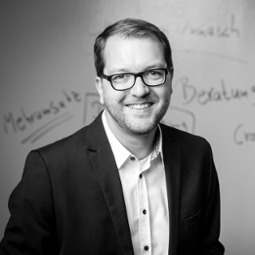 Want to learn more? I'm looking forward to hearing from you!
Christian Onnasch
Account Executive
Digital Business