Your Customers Stand at the Heart of our E-Commerce Concept
In our e-commerce concept, we'll summarise and structure all the information we collected in the strategy workshop for you. With a detailed SWOT analysis, we'll derive recommended actions for your e-commerce project.
So that the processes, products, and services of your enterprise enjoy long-term success, we don't just rely on technology and functions, but put the customers and their expectations at the focal point of our considerations.
E-Business Personas
For this reason, as an extension of the customer journey we work with so-called e-business personae, example user types which characterise the people in your target group with respect to certain traits and user behaviour.
E-business personae are an effective method to put yourself in the position of potential users and reflect this perspective during the entire design and implementation process.
Customer Journey
With the help of defined personas, we'll show you the customer journey with all relevant touchpoints and compare the desires and aims of your customers with their actual experience.
E-Commerce Trends
Within the concept we take account of current trends in online retail, so your project can be implemented according to state-of-the-art standards. With more than 10 years of e-commerce experience, we are able to assess which developments will be sustainable and relevant for your project.
Let the Experts Create Your Online Shop and get These Results:
We'll identify potential for improvement in your current online presence
We'll develop scenarios for the optimal customer journey
We'll develop your e-commerce concept in the form of workshops, so you can actively exert influence at every stage
We'll bring your e-commerce project up to state-of-the-art standards
We'll design an online shop for you, which offers your customers a unique user experience, raises conversions, and invites your customers to return
We'll offer comprehensive success monitoring after the go-live of your online platform
Your Roadmap for Digital Transformation
Besides the customer-focused orientation of your e-commerce concept, we also support you in overcoming obstacles within your company. The recommendations for action pointed out in the concept are especially focused on digitalisation and simplification of previous workflows.
We thus provide you with a roadmap for the digital transformation in your company that takes account of your individual priorisation and requirements due to the preceding strategic preliminary phase.
Overview of Guidance:
Complete presentation of the existing and target situations
Presentation of implementation expenses
Recommendations for action based on all relevant factors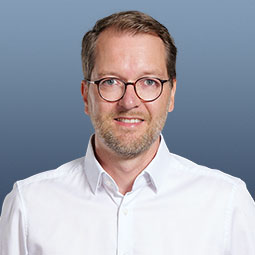 Want to learn more? I'm looking forward to hearing from you!
Christian Onnasch
Account Executive
Digital Business
We'd to to develop an e-commerce concept that's built for the future for you!