With its content management solution and customer experience management, the eZ Publish platform builds the deal basis for the creation of digital experiences. A comprehensive set of tools allows you to create contents in the shortest time, to automatize it, and to spread it over all devices and channels (web publishing, mobile and multi-channel content delivery).
To this end, the platform offers a whole row of functions, including: search, analytics, automatized marketing, personalised recommendations, as well as A/B and multi-variant tests.


eZ Publish Platform Functions
Content Management
Unique object orientated approach: create user defined contents structures in the blink of an eye
Predefined content types: articles, messages, blog posts, forums, FAQs, multimedia galleries, event calendars etc. are waiting for your creative approach.
Optimised user interface: raise the productivity and the efficiency of your content management.
Adaptive interface: define various rights for each individual user.
Reuse content: Save time and effort by reusing existing content for various purposes. The consistency and exactness of your information is secured, because you have to keep the master version of your contents up to date.
Customer Experience Management
Marketing automation: automatize your marketing activities and focus entirely on generating new leads and maximising your turn-over.
Smart analytics: Optimise you content on the basis of your website's traffic, and address your customers with the right content at the right time and in the right format.
Personalisation and recommendation: Excite your customers with a unique user experience, in that you offer then the exact products which match their individual interests and behaviour.
How can dotSource help you?
Magento Connector for the eZ Publish Platform
dotSource is available to you as a partner for the seamless connection of the eZ Publish platform with e-commerce platform Magento Enterprise. With our Magento connector for the eZ Publish platform, we create the basis for a consistent shopping experience for your customers.
The bidirectional integration of the interface offers customers a high degree of flexibility and is unique in the Magento and eZ Publish environment to date.
Questions about content management with eZ Publish?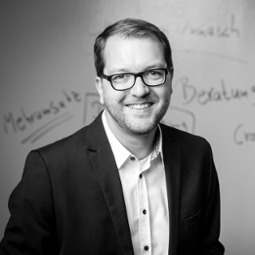 Want to learn more? I'm looking forward to hearing from you!
Christian Onnasch
Account Executive
Digital Business