Accepting Returns is one of the Biggest Challenges for Mail Order Businesses
An item doesn't fit or looks different than presented online - these are the most common reasons for returning an item. The result: Customers often order several different sizes to find a suitable article. The rest goes back if they don't like everything.
It doesn't positively affect profits of an online retailer, nor on the loyalty of the buyer. Customer demands regarding service and size consulting are constantly increasing. Those who shop online would like to know before ordering how clothes fit and look.
In the fashion industry, product assortment, appearance, and usability are just some of the factors for success, but what's most important is an individualised shopping experience and deals from personal advice and support to helping find the right sizes. Online shops that don't do this already have or will lose their popularity.
dotSource Develops Personalised and Customer-Oriented E-Commerce Solutions
Online shops have different ways to meet the growing demands of customers: Call-back solutions, virtual consulttions, webcam-based fittings, live chat, video consultations, video chat, and even video tutorials on Youtube. Good service informs customers and helps them to make informed purchasing decisions.
Keep up to date!
Customer-oriented Success Factor
We'll not only just support you in the implementation of an e-commerce system, but work with you to develop strategies on how you can accompany your customers post-purchase via newsletters and social media channels. With our target group-specific campaigns in the field of digital marketing we'll win new customers for your online shop and successfully connect them to deals.
Personalisation Success Factor
In cooperation with our partner prudsys, we'll develop personalised e-commerce solutions for you. We're able to use product recommendations based on current interest and click behavior of your online shop visitors. These personalised, real-time product recommendations can dramatically improve the shopping experience for them.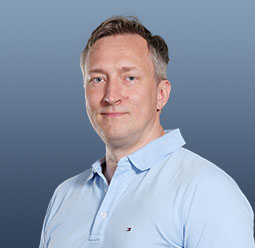 Want to learn more? I'm looking forward to hearing from you!
Marcus Wagner
Account Executive
Digital Business
A successful B2B project with dotSource
Profit from our long-term experience in the area of B2B, because of which, we are able to offer detailed and practical advice for your branch. We have already realised successful B2B projects for the following companies: