Increased Customer Loyalty Through Marketing Automation
Generating higher-quality leads through specific targeting
Increasing the productivity of marketing, sales and service
Automated communication through rule-based actions
Personalised customer approach across all channels
Increasing conversion rates through customised offers
Measurable success through targeted tracking of customer activities
Marketing Automation – Targeted Approach Along the Customer Journey
Thanks to new technologies, social media and rating platforms, consumers have strong buying power and are more informed than ever. The consumers' expectations rise - they want an individual shopping experience tailored to their interests. Marketing automation systems support marketing, sales and service in automating processes in order to ensure that potential and existing customers are addressed more efficiently.
Depending on the stage of the customer life cycle, customers and leads have different needs. Therefore, differentiated measures are necessary to convince them to make a purchase. The biggest challenge for manufacturers, retailers and brands is to track every single customer and to know which stage of the customer journey he is currently in so that they can address him with the right content.
In this regard, marketing automation can support the stages of purchase initiation, customer retention as well as customer win-back.
Successful with the Right Marketing Automation System
The implementation of a marketing automation system has huge potential for optimisation and can contribute to more sales and higher customer satisfaction. The variety of providers, marketing automation solutions and their functions and conditions makes it difficult for many companies to decide on the perfect marketing automation system.
Therefore, the prerequisite for selecting a new technology is a comprehensive preparation stage. Since each company has individual requirements, no general recommendations can be made with regard to the industry orientation, competition or corporate strategy. The decision for a provider should thus always go hand in hand with a detailed breakdown of requirements and a precise evaluation of systems.
dotSource Supports You in Decision-Making
Together with you, we find out
which solution suits your business model
which range of functions you need
which interfaces to existing systems are necessary
to what extent the software meets your requirements in terms of design, security, scalability, modular expandability and usability
which development potential the software has in order to be able to map the possible growth of your company
We Rely on the Following Solution Providers in the Field of Marketing Automation
A Selection of Our Clients for Whom We Have Successfully Implemented Marketing Automation Projects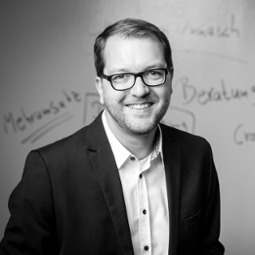 Want to learn more? I'm looking forward to hearing from you!
Christian Onnasch
Account Executive
Digital Business