Take Advantage of Amazon Product Search as a Powerful Marketing Tool
About one third of all German online shoppers use Amazon as a starting point for their product research. In addition to the placement of ads on Google, it is therefore increasingly important for online retailers to be featured in Amazon's product search. However, not every product makes it to the top positions. To remain competitive, you have to keep Amazon's ranking factors in mind.
On Amazon's search results page, the positions one to three get the most clicks. We'll support you in being placed exactly there with your own products.
Amazon's Requirements:
Do the information of a search result match the query?
Are price, delivery time, and shipping costs attractive for the customer?
How do other customers rate the product?
Ranking Factors:
Content optimisation:
Meaningful description texts and product pictures
Filling the bullet points with appropriate keywords
Use of detailed high-resolution images
Depositing meaningful meta keywords
In addition to content optimisation it is important to take both performance as well as various indirect factors into account. Alongside competitive prices, availability, and product reviews, these also include your retailer performance and the conversion rate, among others.
Pay-Per-Click on Amazon
In order to highlight your own products, Amazon offers the possibility of so-called Sponsored Products. These are paid ads that appear either above or below the organic search results and are also marked as such.
Billing is exclusively click-based. Both in Amazon Seller Central and in Vendor Central, Amazon offers comprehensive reporting of all campaigns.
We'll take care of the optimisation of your Sponsored Products' product title, description text, bullet points, and meta keywords.
Full Service Optimisation of Your Product Rankings on Amazon
Through our expertise and our many years of experience in e-commerce, we are the ideal partner to optimise your rankings on Germany's most important marketplace.
Considering all ranking factors, we'll support you in the creation of product detail pages right up to the adjustment of your pay-per-click campaigns on Amazon.
Do you have questions about marketplace optimisation on Amazon or want to arrange a free consultation? We look forward to your call!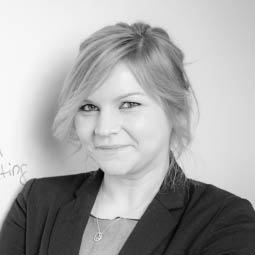 Want to learn more? I'm looking forward to your questions!
Jessica Kopyto
Account Executive
Digital Business
How can we assist you in optimising your Amazon ranking?