SEA is the most successful online advertising
Nearly all relevant search engines like Google, Bing, and Yahoo offer search engine advertising as an online advertising format. The most important and far-reaching SEA system is Google AdWords. Usually, advertisements are placed based on keywords.
The position of the advertisement on the search results page (SERP) is determined depending on the cost-per-click (CPC) offer and the quality factor.
Together with you, our marketing team will develop an individual SEA strategy and supports you in the strategic planning, the campaign set-up and continuous performance optimisation of your AdWords account.
Our SEA managers have strong e-commerce experience in connection with founded AdWords competence.
dotSource SEA Services Overview
Development of an SEA strategy
Definition of campaign goals and budgets
Campaign design and realisation
Definition of account and campaign structure
Definition of campaign settings and orientation
Creation of keyword lists and establishment of match types
Creation of relevant and click-optimised advertising texts
Establishment of landing pages
Selection of advertising extensions
Implementation of conversion tracking
Internationalisation
Selection of relevant search engines
Localisation of key word sets, advertisements and landing pages
SEA Consulting
Implementation of cross-channel campaigns
CREATION OF REPORTING Based on INDIVIDUAL KPIS
Impressions, clicks, click though rate (CTR)
Conversion, conversion rate
Cost per click (CPC), cost per order/action (CPO/CPA), cost per million/thousand contact price (CPM/TKP)
ROI, ROAS, KUR
CONTINUOUS TRACKING, EVALUATION AND OPTIMISATION
A/B testing for advertisements, keyword options and landing pages
Bid management based on company and budget goals
Adjustments of the SEA campaign to volatile conditions
Integration of new features
Generation of negative/black lists
MARKET AND COMPETITION ANALYSIS
PERFORMANCE-BASED MANAGEMENT OF YOUR PRODUCT LISTING ADS (PLA)
Schedule a consultation
Google Shopping Campaigns (Product Listing Ads, PLA)
Unlike traditional text ads, with Google Shopping campaigns you have the opportunity to show potential customers product information, such as prices and pictures, before they even reach your site.
Shopping ads are either displayed directly on Google Shopping or they appear separated from the text advertisements next to the search results from Google and its search network partners.
In this way, you will generate more qualified leads because the potential customers have already received basic information about the product and will only click further if they are really interested.
Your advantage: Increase your reach to gain new customers and develop synergies and conversion potentials.
Thanks to professionally optimised data feeds, based on well-structured product databases, the product data is always up-to-date.
Here, dotSource's concentrated e-commerce compentence applies and you can benefit from our expertise.
Some of our SEA References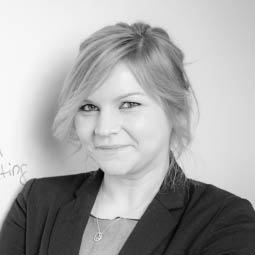 Want to learn more? I'm looking forward to your questions!
Jessica Kopyto
Account Executive
Digital Business