We Think in Completed Data Solutions!
Together we'll explore the areas in which you can make the most use of AI and business intelligence, and which use cases will benefit you and your customers most in the future. At dotSource, we call that Data Thinking.
Step 1: Data Thinking as a Tool for AI Innovation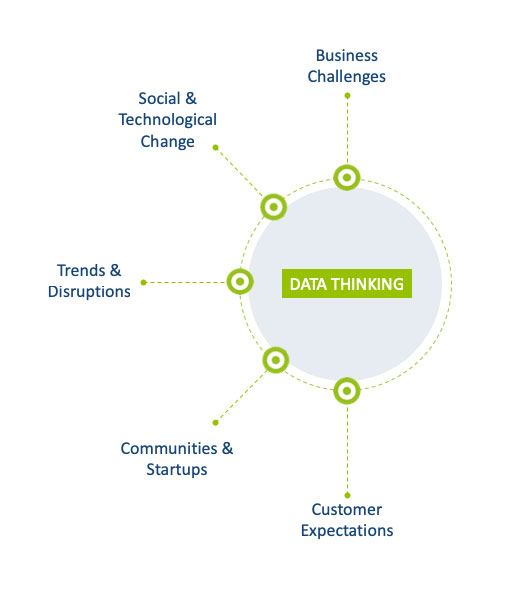 Data generates knowledge, and knowledge is power. Collecting data has long been standard. Regardless of whether order histories, demographic data, return rates, or market prices – each individual area of a company generates data that can be used to optimise processes or to create new use cases for stronger customer loyalty.
Many companies have recognised this potential, but lack the knowledge of a proper and meaningful utilisation.
It describes a method that combines data science with the design thinking approach. In contrast to conventional big data concepts, we're putting the technological aspects in the background and focus on the creative development of user-centred use cases in cross-functional teams.
On the one hand, we look at external factors such as technological changes, trends, and customer expectations and, on the other hand, we examine which use cases hold the greatest business potential.
Data Thinking Focuses on the Development of User-Centred Use Cases Based on the Following Questions:
How do you want to develop as a company and what challenges do you see?
What areas do you want to benefit from artificial intelligence and business intelligence?
What expectations do your customers currently have and what expectations will they have in the future?
What use cases can be derived from this?
Is enough data available for these goals? If not, how can you get more?
Our experts come from various teams (PIM, CRM, e-commerce, analytics, AI-specialists, data scientists) and bring their expertise to maximise our clients' benefits. Through interdisciplinary cooperation, all divisions can be illuminated and taken into account. The data-thinking phase ends with the determination of the required data and its quality with regard to AI and BI deployment.
Based on this, we can select the right technology for your business, ensuring that from the beginning you only invest in the solution that really drives your business forward.
Once goals and use cases have been defined, we'll merge existing data. To do this, we'll leverage our expertise in e-commerce, data management, PIM, CRM, and MA to collect data from multiple sources, and aggregate it into one data lake.
In discovery workshops, we'll then work out starting points where this data in conjunction with AI and BI MVPs contributes to increased sales, process optimisation and more efficient employee deployment or serves as a basis for decision making – depending on the goals you pursue.
We'll always keep an eye on the finished data solution as well as your future use cases and create a roadmap that'll help you get there safely. We'll reliably identify digital loopholes and make recommendations on how to close them.
Once all these steps have been completed, you can choose the right software and lay the foundation for your data enterprise.
Further AI and Business Intelligence Services from dotSource
Develop Your AI Strategy with us!