Successful Brand Building Through Display Advertising
Display advertisements, also known as banner advertisements, are often at the beginning of a customer journey. Through animated and interactive advertising, you reach potential buyers in the inspirational/awareness phase, and generate attention for your brand through targeted delivery.
A display campaign fulfills an important function in the online marketing mix and supports the further measures in the SEO, SEA and affiliate.
Prior contact with your brand in the form of banner advertising increases brand awareness and the probability of a follow up visit to your website or your online shop and thus the likelihood of a conversion.
Our display strategy targets at both a high range and the high-performance, because target group and interest-specific delivery of advertising material (so-called targeting). This minimises the waste of advertising material and increases your return on investment (ROI).
Our in-house creative department supports you in designing innovative advertising banner for display campaigns according to your wishes and CI requirements.
Users who have already visited your shop but have not yet purchased anything, can be specifically addressed through intelligent and unobtrusive retargeting and be won back.
Overview of our Display Advertising Services
Planning, implementation and optimisation of display, retargeting, RTB, and Youtube campaigns
Creation of eye-catching and conversion-optimised advertising material
Research and identification of the right target groups
Placement of your advertising material in the relevant advertising environment
Use Display Marketing to Attract the Right Customers, at the Right Time
Retargeting/Remarketing
With remarkting visitors of your website or of your online shop are recognised by means of a cookie from all other sides on the Internet. With banner advertising you now have the opportunity to address the user on an external page with graphically high-quality content and bring it back to your site.
Remarketing makes sense especially when it comes to a purchase cancellation, like for example, a visit that did not lead to the purchase or any other conversion. Depending on the campaign setup, we use standardised or completely individualised advertising material.
Real Time Advertising
Real Time Advertising (RTA) or Performance Display Advertising is currently one of the most dynamic and exciting developments in digital marketing. Where previously individual advertising spaces were marketed directly by the site operator/publisher, the selection of the advertiser and advertising content nowadays takes place fully automatically and in real time.
With the RTA, however, the focus is no longer on the placement (website) but on the individual user profile.
This will be included with every advertised advertisement and adjusted with the advertiser's specifications.
With its large reach and automated delivery, RTA campaigns enable us to quickly reach a very high volume of relevant ad impressions.
Pose a question about display advertising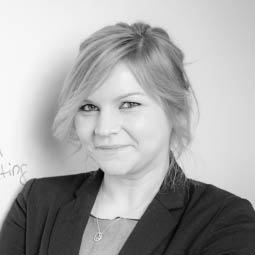 Want to learn more? I'm looking forward to your questions!
Jessica Kopyto
Account Executive
Digital Business