Our Product Data Marketing Services
A well thought-out product data marketing strategy helps you to increase your reach on online sales channels while at the same time minimising your risk through independence. The experts of our digital marketing team will answer all questions regarding the online presence of your products. Whether it is strategic consulting, support in the selection of tools or the implementation of operational measures: we are happy to use our e-commerce know-how to make your online business a success.
Strategic planning of your product data marketing, including the selection of suitable search engines, portals and networks
Optimisation of your product data by researching relevant keywords and creating appealing product and category texts
Improving and ensuring the quality and structure of your data feed
Support in regularly maintaining and updating your product data
Independent consulting regarding the selection of feed engines according to your individual needs and requirements
Operational implementation of your paid advertising, such as SEA/Google Shopping or social advertising
Continuous tracking and monitoring of your performance with regard to your individual KPIs
Creation of informative dashboards for a quick overview of your channels, measures and results
Workshops and training courses tailored to your needs that build your knowledge or teach you how to use tools
Automated Product Data Marketing: Achieving Omnichannel Success Efficiently
In the context of e-commerce, product data marketing is one of the most important disciplines in online marketing. Product Listing Ads (PLA) on Google, Bing and Co. as well as price comparison portals such as idealo.de and billiger.de provide users with transparent and uncomplicated product information. This is why these platforms are important points of contact for your customers when it comes to researching and buying products. For some years, social networks such as Facebook and Instagram have also been offering users a seamless shopping experience through integrated shop features. For companies, this opens up a variety of sales channels besides the classic online shop.
However, the question is: how can all the relevant data be made available to portals, networks and search engines without losing track of the big picture? Intelligent product data marketing is the key to success here. A well thought-out product data strategy will help you to increase your reach and turnover in the long term through alternative online sales channels.
The basis for successful product data marketing is the master data feed of your products. It contains all the information about articles from your shop system. The quality and up-to-dateness of this data feed plays a decisive role – not only for your shop, but also for other online sales channels. Thanks to our many years of e-commerce expertise, our experts will be happy to advise you on how to optimise and ensure the quality of your data – from appealing products descriptions and texts to the ideal structure and mapping of your data.
Product information for search engines, portals, etc., can be provided using so-called feed engines. These engines automatically prepare your product data for the respective sales channel and forward it. As a result, you can be sure that your data meets the standards required by Google Shopping, idealo.de & Co. This means that your product information only has to be maintained in the central master data feed.
With the increasing importance of alternative sales channels, the market for feed engines has also grown rapidly in recent years.
As individual as your products are, as different are the features of the different tools and providers. Our experts will help you to identify your requirements and needs and select a suitable feed engine for your company.
In order to make users aware of your company and your products on search engines, comparison portals and social networks, your visibility can be optimised and increased with the help of paid advertising, for example search engine advertising or social advertising. We are happy to assist you in setting objectives, planning or even the operational implementation of these measures.
A Selection of Our Clients That Trust in Our Expertise in the Field of Product Data Marketing
We Are Happy to Support You in All Areas of Digital Marketing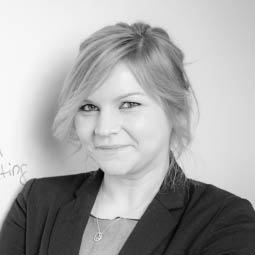 Want to learn more? I'm looking forward to your questions!
Jessica Kopyto
Account Executive
Digital Business