Automated Product Data Marketing: Intelligence Product and Price Search Engine Management
Product data marketing is developing into an increasingly important sales channel within the online marketing mix.
Alongside classic price search engines, such as idealo.de, billiger.de etc., above all, it is Google, with its product listing ads and shopping campaigns, which is responsible for an increasing relevance of product data marketing.
Our holistic product marketing strategy provides your shop with highly relevant and thereby optimally converted traffic. With specialised product data marketing solutions, we efficiently manage all feed-based sales channels and thus your improve your cost-turnover ratio and return on investment (ROI) through detailed analyses.
The master data feed, which is based on the data of your shop system, is the foundation of successful product data marketing.
For each price comparison portal, an individually optimised export feed is created, which is specifically tailored to the targeted channel. Through channel- and product-specific tracking, we achieve transparent success measurement and performance-orientated product input.
Depending on the predefined KPIs, we manage your CPC offers or deactivate inefficient products or product groups.
Product Data Management Services
Selection of appropriate price comparison portal
Creation of master feeds from your shop system
Account connection Google Marchant Center and Google AdWords
Definition of campaign structure
Creation of an individual product feed for each portal
Definition of individual business rules and goal KPIs
Coordination and performance focussed optimisation of the product listing
Bid management and performance analysis
Communication on portals and product search engines
Set-up & monitoring of affiliate marketing networks and marketplaces (Amazon, eBay)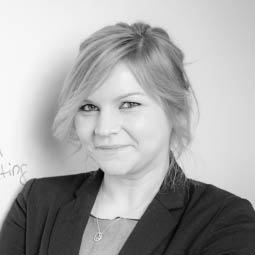 Want to learn more? I'm looking forward to your questions!
Jessica Kopyto
Account Executive
Digital Business
We'd love to answer your questions about product data marketing!