Target Group-Specific Advertising on Different Social Media Platforms
With a holistic social media marketing concept, you can reach your customers where they reveal the most about themselves: In the cosmos of social media. But in addition to creating targeted content, it's important to create reach on these channels so that your content can reach your target audience.
Demographic information such as age, place of residence, and gender, as well as interests, activities and careers that users provide within their social media profiles allow us to tailor advertising to your target audience.
Use the range of Facebook to spread your brand message or to place your products within a purchasing target group. Strengthen your brand by distributing high-quality visual content on Instagram, reach potential new employees or decision-makers via Xing or LinkedIn. Whether B2C or B2B: The possibilities within social media are manifold and together we#ll find the right strategy for your goal.
Sustainable Success via Social Media Advertising
With you, we'll find the right combination of social media platforms and advertising material and develop the right strategy for your business fields. Our social media advertising services are broken down as follows:
Consulting, strategy finding, and selection of suitable social media networks (for example Facebook, Instagram, Twitter, Xing, LinkedIn etc.) and respective forms of advertising
Target group definition, selection and conception of the advertising forms within the respective platforms and setup creation
Management, continuous optimisation, and monitoring of PPC campaigns in the social media area
Training in dealing with social media advertising and related approaches and tools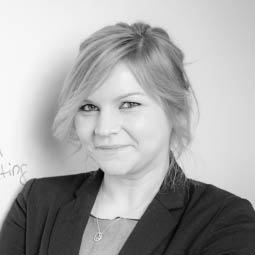 Want to learn more? I'm looking forward to your questions!
Jessica Kopyto
Account Executive
Digital Business
Ask us about social media advertising!