How we Develop a Perfectly Tailor-Made Digital Marketing Strategy:

Phases of our Digital Marketing Strategy in Detail
Discovery Phase: Your digital marketing requirements are recorded in detail, by us, then we'll set new goals and expectations. In addition, you'll give us the insights that we need for our consultations - like phone calls or on-site appointments.
Analysis Phase: The collected information now flows into detailed actual analyses of market, competition, target groups, and the company (including current processes, resources, systems). The findings from this allow us to draw conclusions about possible actionionable options and requirements.
Design Phase: We now use all this information to define dedicated goals for each target group, to develop suitable digital marketing strategies to achieve these goals, and finally, to find tge measures with which the strategies can be created.
Structured procedure
Long-term effectiveness, since the developed measures build on market influence and opportunities of the company
User-centred, as different strategies can be developed per target group
During different stages of strategy development different stakeholders can be involved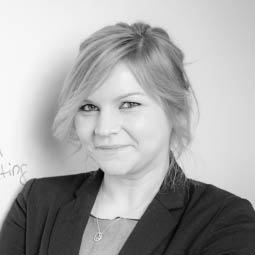 Want to learn more? I'm looking forward to your questions!
Jessica Kopyto
Account Executive
Digital Business