Your customers stand at the heart of our e-commerce concept
In our e-commerce concept, we summarise and structure all the information we collected in the strategy workshop for you. On the basis of a detailed SWOT analysis, we derive concrete recommended actions for your e-commerce project.
So that the processes, products and services of your enterprise enjoy long-term success, we don't just rely on technologies and functions, but put the customers and their expectations in the focal point of our considerations.
E-BUSINESS PERSONAE
For this reason, as an extension of the customer journey we work with so-called e-business personae, example user types which characterise the people in your target group with respect to certain traits and user behaviour.
E-business personae are an effective method to put yourself in the position of potential users and reflect this perspective during the entire design and implementation process.
CUSTOMER JOURNEY
With the help of the defined personae, we show you the customer journey with all relevant touchpoints and compare the desires and aims of your customers with their actual experience.
E-COMMERCE TRENDS
Within the concept we take account of current trends in online retail, so your project can be implemented according to state-of-the-art standards. With more than 10 years of e-commerce experience, we are able to assess which developments will be sustainable and relevant for your project.
Our strategy consulting process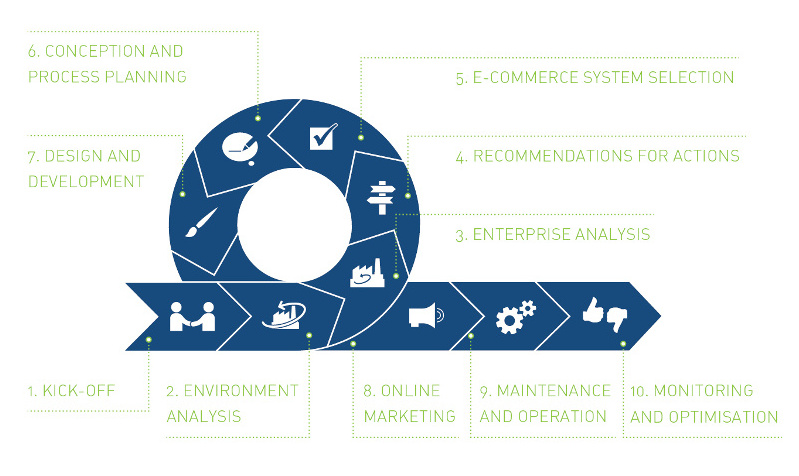 E-commerce does not only mean online shop
Although online shops are the cornerstones of an e-commerce strategy, other systems can be equally relevant. Besides the focus on online shops, we therefore also offer strategic preliminary considerations in the fields of CRM, PIM, and CMS.
Whether you want to replace an existing system or integrate a new one, we support you in completing your present system landscape.
CRM AND PIM SYSTEM
Customer relationship management requires processes of which your customers shouldn't take notice. By means of a target group analysis, we develop optimised CRM workflows that make
your customer data management more cost efficient. PIM systems are responsible for up-to-date product information.
These systems also require strategic preliminary considerations concerning the necessity and possibility of integrating them into the existing system landscape. We would be happy to support you in this.
CONTENT MANAGEMENT SYSTEM (CMS)
An online shop is more than just a price and availability display: by means of a content management system (e.g. eZ Publish) you enter content, analyse user behaviour, and finally optimise the content you deliver.
During the strategic preliminary phase, the question to what extent the CMS is supposed to perform functions of an existing shop system is particularly important. As an experienced shop system partner we support you in mastering this challenge.
Strategy workshop with dotSource
In the initial kick-off meeting, we have got to know your company, considered your project requirements and compiled them in a first concept.
Based on this information, we set up an individually tailored strategy workshop in order to gain a deeper understanding of your specific expectations and goals.
During this process, we examine your competition in detail, analyse your target groups along the customer journey, uncover industry trends, and from this derive chances and risks for your e-commerce project.
Furthermore, we look at all your internal value creation processes, analyse your brand and USPs in relation to your e-commerce/multichannel goals and thereby identify the strengths and weaknesses of your e-commerce project.
Alongside a detailed SWOT analysis, we introduce you to different visions for future marketing and sales activities and develop relevant measures for your project from these. We then condense the results for you in a comprehensive e-commerce concept.
References in the field of Strategy
A few clients we've assisted with their digital strategy: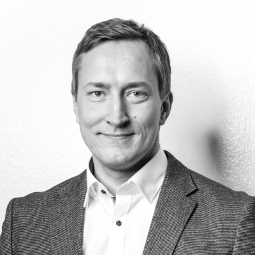 Want to learn more? I'm looking forward to hearing from you!
Marcus Wagner
Account Executive
Digital Business