Effective product data management for your cross-channel e-commerce strategy
CENTRALISATION OF DATA
Today, cross- and omnichannel are state of the art in e-commerce. This requires the export of products in different formats and languages into e-commerce systems, print and e-catalogues, social media and personalised product recommendations with texts, images and videos. Always up-to-date, high-quality product information for all output channels are decisive for your e-commerce success.
INDIVIDUALLY CUSTOMISED PRODUCT DATA INCREASES QUALITY AND CUSTOMER SATISFACTION
A PIM system provides the advantage that information can be entered and adapted quickly and consistently. Repeated entry and maintenance of data in different systems is no longer required. This saves time and resources for sales and marketing activities.
Moreover, the product data in a PIM system can be compiled individually for your target group and be output for every desired channel in a structured way. Benefit from our years of experience with product data in e-commerce and allow yourself to be convinced of the advantages of a PIM system.
Our services as a PIM agency
In order that you can take advantage of the benefits mentioned above, deciding for the right PIM system is essential. In addition to our comprehensive view of the PIM/MDM systems market, we also have reliable partnerships with leading providers such as StiboSystems, CELUM or Contentserv to optimally respond to your needs.
As soon as we have found a PIM system that suits your business cases, we take care of its implementation , integration with third-party systems (e.g. digital asset management systems like CELUM), smooth operation as well as the creation of SEO-relevant product texts.
Introducing a new strategic technology influences your processes and workflows. This is why we also take care of issues that go beyond the technical implementation, such as "process management", "change management" and "data governance".
With this comprehensive support by our certified PIM consultants from the beginning to the completion of your project, we aim to increase the efficiency of your business processes significantly.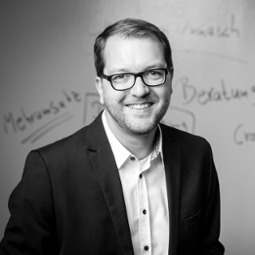 Want to learn more? I'm looking forward to hearing from you!
Christian Onnasch
Account Executive
Digital Business
Effective data management for more success in cross-channel e-commerce