We support you in the implementation of a PIM System in several phases
INTENSIVE WORKSHOP PHASE
In a first workshop, we lay the foundation for your PIM project. The aim is to get to know your business, your products as well as interfaces & workflows in order to optimally respond to your requirements.
Typical questions to be answered in our workshops:
How often is your product range changed or expanded?
Do you need your product information in more than one language?
Which output channels is your PIM system supposed to feed?
Do you have an up-to-date data governance document?
Does your company have standardised processes for product data management or handling?
Is there an active, existing change management concept in your company?
Are additional systems, like a media asset management system, useful?
SPECIFICATION
In the specification phase, we summarise your requirements for the PIM system. The result of the specification phase is a summary of all detail specifications. Based on that, the expected costs and the duration of the PIM introduction can be presented in detail.
IMPLEMENTATION PHASE
On the basis of your individual requirements, it is possible to decide which configurations and developments are necessary to implement the selected PIM system successfully.
The configuration phase goes hand in hand with a test and stabilisation phase where we examine the interfaces as well as the communication between the individual systems.
TRANSFER OF PRODUCT INFORMATION
After successful completion of the test phase, the transfer of all the product information to the PIM system starts. In the process, you can decide at what time which parts of your product information are to be transferred and, if necessary, for which international subsidiaries this is supposed to happen. By means of its multi-language feature, the PIM system allows region- or target-group-specific output of product information.
In other countries, additional product information may be necessary, or specific legal requirements concerning information security, data protection and information obligation may have to be taken into account. As a result, additional attributes have to be considered - ideally already during previous project phases.
Our PIM implementation and PIM integration services at a glance
Execution of specification workshops
Support in the maintenance of your PIM system
Support in the configuration of your PIM system
Transfer/roll-out to production system
Adjustment of processes after roll-out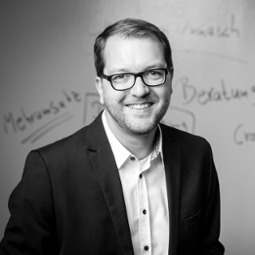 Want to learn more? I'm looking forward to hearing from you!
Christian Onnasch
Account Executive
Digital Business