Operational and strategic planning of your PIM Project
CHALLENGES
Increasingly global markets, shortened product life cycles and growing customer demands reduce the return on investment. Companies respond to this with increasingly complex business models and large investments in IT and software, with the aim of implementing international cross-channel strategies.
Print and e-catalogues are supplemented with online shops and market places like Amazon. To ensure that the products are sold successfully, various business scenarios have to be taken into account. These scenarios can be realised by means of a PIM system.
ADVANTAGES OF A PIM SYSTEM
Increased product data quality
Central product data
Omnichannel support
Internationalisation
Integration of existing media files via MAM/DAM systems
Integration into existing system landscape
optimised business processes and workflows
Improved visibility (SEO)
Reduced expenses and time
Enhanced user experience
Improved time to market
Freely scalable product data across all output channels
According to a B2B study, the use of a PIM system can increase the conversion rate by 35 per cent and reduce the returns rate by 25 per cent. Working with a PIM system thus affects all business processes, which in turn have a positive effect on company success. A PIM system is the first and most important building block of an MDM system.
This makes it necessary to plan and manage PIM projects not only on an operational, but also on a strategic level. When realigning your corporate strategy, you should therefore bear the subject of PIM in mind from an early stage. We take care of the details.
We want your PIM project to be successful from the very beginning.
That's why we already support you with the following services before implementing your PIM project:
Project-preparatory research (recording a rough outline of the current situation in your company)
Training concept
360-degree perspective (all-round view of your PIM project)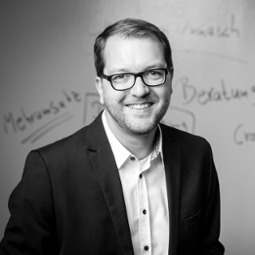 Want to learn more? I'm looking forward to hearing from you!
Christian Onnasch
Account Executive
Digital Business