The variety of PIM providers makes a system selection increasingly difficult.
If your business model is oriented towards internationalisation, if marketing and sales are key components of your business activities and if there is steadily rising cost pressure, the use or optimisation of a PIM system will become necessary.
A PIM must not only be able to cope with the current framework conditions, but also with future developments. For this reason, a re-evaluation also pays off for companies that already use a PIM system.
Currently, the range of different PIM systems is steadily growing. Large software manufacturers and media companies consolidate or integrate smaller systems. Some providers have an industry focus, are strongly oriented towards e-commerce scenarios or offer convenient e-procurement solutions.
The variety of PIM providers with their different solution approaches, features and terms complicates the selection of a specific provider.
The processes for obtaining, comparing and analysing information are very complex. A wide range of information has to be gathered, analysed and evaluated.
At this point we provide straightforward and professional support. We know the provider market and are experienced in implementing complex software projects. By means of our 360-degree analysis, we find the most suitable system provider for you.
By means of the following selection criteria, we bring order into the PIM vendor market:
SOFTWARE CRITERIA
Usability
License costs
Funtionality
Output channels
Data model
Connection to third-party systems
PROVIDER CRITERIA
Sustainability
Industry focus
Power to innovate
References
Experience
Business model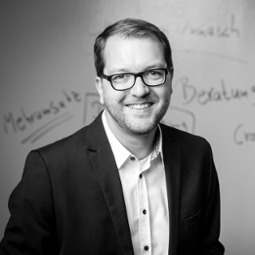 Want to learn more? I'm looking forward to hearing from you!
Christian Onnasch
Account Executive
Digital Business