Trust a leading PIM/MDM Provider
For years, industry leaders have trusted StiboSystems to connect product, customer, supplier, and other corporate data. As a StiboSystems partner, we support you in the areas of product & master data management, process management, opportunity management, and data governance.
With STEP Master Data Management (MDM platform), organisations have a single, cross-domain source of master data-one trusted source of strategic information, effective decision-making, revenue growth, and value-added generation. StiboSystems is part of the private company Stibo A/S, founded in 1794, with its headquarters in Aarhus, Denmark.
Our Services as a StiboSystems Partner Agency
We'll advise you on all relevant topics of a PIM implementation, such as the development of a forward-looking data model or the development of extensive rights and role concepts. We'll take care of connecting it to third-party systems (like digital asset management systems such as CELUM), the smooth operation of your system, and the creation of SEO-relevant product texts.
We also offer services that go beyond system implementation, such as: Process Management, Change Management, and Data Governance. Our certified consultants will be at your side from start to finish of your project to significantly increase customer satisfaction through their PIM or MDM system.
Trust the Knowledge of a StiboSystems Partner
Introduction & Integration
Development of data models and authorization concepts
Implementation of your PIM/MDM system
Connection to third-party systems
Smooth operation of your system
Hiring of SEO-relevant product descriptions
Education & Trainings
Process management
Chance management
Data governance
Your Advantages with StiboSystems
With StiboSystems' PIM/MDM system, it's even easier to analyse data in real time and derive recommendations for action. The STEP Uniform MDM platform not only facilitates the centralised storage of all your product information, but also facilitates the collection of information materials from different channels. Further advantages are:
Multi-domain
Automation
Very good print-publishing systems
Data collection
Quality check and validation
Automated copywriting
Time-to-market of products
Data processing and provision
Modeling capabilities
Asset management
Technical administration
StiboSystems offers outstanding integration of large data volumes with complex format options through its STEP MDM platform. Built-in back-end applications automate information through configurable workflows throughout the supply chain. Regardless of data model, format, language, and currency, we can create unique customer experiences for your business with STEP for every marketing and distribution channel.
POS and online store self-destruction are avoided because customers aren't provided with redundant information, but can be offered a consistent multi-channel experience.
StiboSystems is one of the world's leading providers of multi-domain master data management solutions. For years, industry leaders have trusted StiboSystems to connect product, customer, supplier, and other corporate data.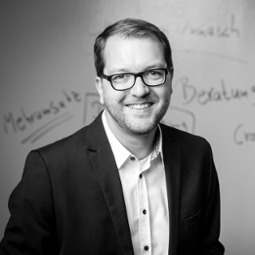 Want to learn more? I'm looking forward to hearing from you!
Christian Onnasch
Account Executive
Digital Business
Do you have questions about master data management with StiboSystems?