»Customer Engagement«: Topics at a Glance
Moving Towards the Best Digital Experience

A Complete Customer Experience Requires a Comprehensive Range of Services

What is Customer Engagement?
Digital Experience Platforms (DXPs) are Gaining Importance

Exceed Customer Expectations
Scaling with Microservices and API Data Quickly
Offering Cloud Deployments
Promote Artificial Intelligence
Consider the Service Economy
Best of Suite versus Best of Breed

Best of Suite DXP
Best of Breed DXP
Overview of Best of Suite DXPs
Providers and Core Technologies Compared
Conclusion
B2B Commerce: Designing Customer Relations with Salesforce Cloud | DXP Demo
Digital Platforms are Determining Retail of the Future
The customer journey is getting more complex. The points of contact between consumers and companies are multiplying, customers expect advice and that increases the challenges for retailers and brands.
In order to attract and retain customers, companies should provide unique and seamless digital experiences. In fact, the customer experience in 2020 will be the most important differentiator between brands.
The technologies continue to develop to bring more speed, flexibility, and efficiency to all processes. This enables companies to react agilely to changing requirements, and even leading-edge technologies such as artificial intelligence and the Internet of Things are gaining in importance.
Another trend is becoming clear: Cloud-based solutions are replacing on-premise solutions. In addition, software architectures based on microservices and flexible APIs are evolving as they enable fast, scalable, and individually relevant shopping experiences.
The largest providers of such technologies (SAP, Salesforce, IBM and Adobe) are expanding their offering of digital experience platforms. In a suite, these DXPs bring together all the needed functions (CRM, commerce, marketing, and services) to help retailers, manufacturers, and brands build a viable, customer-centric system landscape.
At the same time, best-of-breed systems offer complex individual solutions. For the supposedly better fit, however, you quickly need a much higher budget.
Which strategy is ultimately the right one, should be decided individually with the help of professional advice. For DXP to be fully effective, a corporate strategy is required that drives all processes and activities towards high-quality customer engagements.
In this white paper, we'll explain what companies need a customer experience strategy and how it should be implemented. We'll also give an overview of the digital experience platforms of the leading providers. Retailers and manufacturers thus receive the perfect guide to create optimal customer experiences.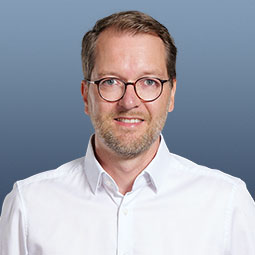 Do you want to learn more? I'm looking forward to hearing from you!
Christian Onnasch
Digital Business