»Selecting PIM And MDM Software« – Stibo, Akeneo Etc. In Comparison
Data management today and in the future
Product information management (PIM)
Master data management (MDM)
From tool to platform – challenges in data management
Advantages of a PIM system
Advantages of a MDM system
What contributes to the success of a system implementation

Process management
Change management
Master data governance

System evaluation
Comparison of system providers (Part I)
Comparison of system providers (Part II)

Stibo Systems
Contentserv
eggheads
Akeneo
SAP
Riversand
Informatica
Pimcore
OpusCapita
myview
MasterPIM

dotSource Vendor Matrix for PIM and MDM systems
How To Not Only Manage the Master Data of Your Company, But Also Use It Effectively
The big question of our time is no longer whether you digitise, but how. Therefore, management staff is nowadays challenged to assess technology developments and their effects on the company.
It became apparent that companies often only react with a long delay instead of becoming a pioneer and co-designer of a profitable digital strategy.
In this context, the topic of product and master data management is particularly sensitive as it touches central databases of a company.
In our completely renewed whitepaper, we explain what these two systems actually are, what distinguishes them and which solution is particularly suitable for whom.
We further expound on which role they play within a digital experience platform and what the advantages of different software approaches are.
However, this white paper not only portrays different providers and describes features as well as approaches. Based on independent criteria, 13 software solutions which are particularly interesting for companies in the DACH area (Germany, Austria and Switzerland) were subjected to a sophisticated, two-level evaluation. As a result, the dotSource Vendor Matrix offers a graphical overview of which systems lead the way.
We cover all huge players from Stibo Systems to Contentserv and Informatica through to interesting niche players like myview.
Besides the provider comparison, the white paper contains comprehensive recommendations on what decision-makers should pay attention to when selecting PIM and MDM software and how modern data management is organised.
It is not least about the question which attitude and key points are important for a company when it seeks a system change or a renewal.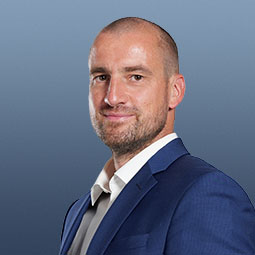 Want to learn more? I'm looking forward to hearing from you!
Steffen Schneider
Account Executive
Digital Business