As a participant in the German Stevie Awards, dotSource is delighted to have won two awards at once. This year, more than 400 applications were evaluated by over 40 jury members in six panels. dotSource excelled in the »Company of the Year« category and convinced the jury members in the »Best E-Book« category with its annually published Handelskraft Trend Book. The awards are part of the Stevie® Awards series and the most comprehensive business award in German-speaking Europe.

Awards and prizes are a great thing. Not only do they demonstrate the quality of work to the outside world, but they also motivate and encourage employees in what they do and how they do it. This year, participating in the German Stevie Awards has paid off twice for the digital agency from Jena. dotSource was able to convince the jury not only with its corporate philosophy, its range of services and its presentation as »Company of the Year – Internet and New Media«, but this time also with its in-house publication, the Handelskraft Trend Book, in the »Best E-Book« category.

Handelskraft Trend Book - The Guide for Digital Trends

»The goal of using the Trend Book to help companies identify opportunities, tackle them courageously and become digital trendsetters themselves is an ambitious one – especially in the context of this highly technical topic, which many authors often approach too rigidly and in the same way over and over again. Not in this case, however, as the Trend Book contains many images, is colourful and well arranged typographically, has an exciting layout and keeps readers entertained. An incredibly varied book that is fun to read and inspires people. Just WOW,« one of the jury members of the German Stevie Awards comments on the dotSource publication.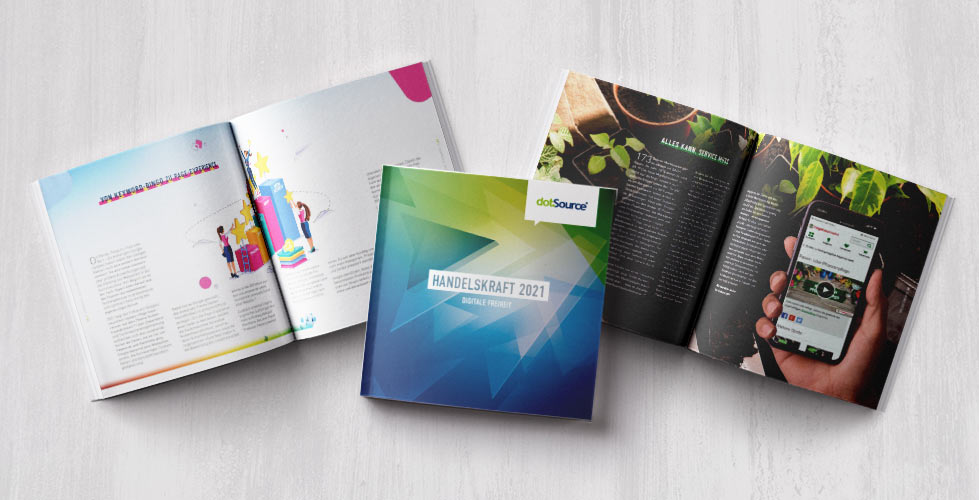 In the »Handelskraft Trend Book«, which has been published every year since 2013, dotSource shares digital business trends for industry and commerce. With detailed analyses of data-driven business, BI and AI, future retail and social commerce, New Work and tech trends as well as current facts and figures on digital experience, payment, marketplaces and more, the Trend Book is THE guide for successfully designing digital customer relations. Well-founded industry knowledge coupled with the hypes of the year, international success stories followed by tips and critical questions, those of e-commerce combined with the trends of tomorrow – all of this can be found in the Handelskraft Trend Book.
»Year after year, it is not only trends and new features, modern design and added value that can be found in the Trend Book, but also numerous challenges and even more passion and joy. That is why we are all the more pleased about the recognition and the positive as well as constructive feedback that the Trend Book received from the jury. My special thanks go to our team of authors, without whom the annual Trend Book would not be possible in this form,« Christian Otto Grötsch, founder and managing director at dotSource, remarks.