Founded in Berlin in 2011 as a start-up with three employees, Contentful GmbH has grown into one of the big players on the content management system (CMS) vendor market within just a few years. Unlike traditional CMS providers, the headless CMS focuses on interfaces and is thus extremely streamlined, versatile and easy to connect.
With a headless CMS, content can be distributed simultaneously to many different types of media – websites, (progressive web) apps, digital signage – via interfaces (APIs) without having to transfer it manually.


From Content to an Ideal Digital Experience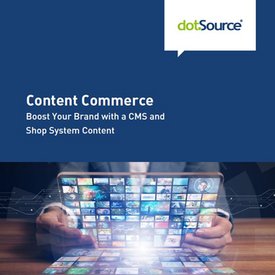 »Content Commerce« White Paper
High-quality content is turned into an excellent digital experience that will inspire customers in the long term. Find out more about how this works in our white paper.
Gaining More Flexibility and Autonomy with Contentful CMS
Contentful is a popular, cloud-based alternative to traditional content management systems – especially for companies that focus on multi-channel marketing and want to distribute their content quickly, freely and flexibly across various channels.
The solution is a decoupled CMS, which means that the front end and back end are separated. This special infrastructure has substantial advantages for both content creators and software development teams: content only needs to be created and distributed once, significantly reducing the time required to complete these tasks.
In addition, the published content is automatically and perfectly adapted to the device in use and the viewport. Developers can work with any type of code and install additional extensions as required.
Contentful excels in development, marketing and decision-making processes – the latter through performance and scalability. Marketers like the intuitive handling of the web app and development teams appreciate the innovative API-first approach: structured data and the separation of content and presentation layer allow for the integration of content into mobile apps as well as progressive web apps beyond website creation.
Moreover, the software solution has a flexible microservices architecture that ensures additional speed and adaptability in all currently important programming languages. Accordingly, Contentful can be easily connected to other systems such as PIM, CRM or e-commerce solutions.
Key Facts About Contentful
Headless CMS with an API-first approach
Cloud-based platform
Scalable infrastructure that enables users to create, manage and publish content on a global scale
Contentful Impresses With
intuitive handling of the web app
platform independence
simultaneous content creation for all media
Contentful CMS at a Glance
Thanks to its streamlined and flexible content infrastructure, different types of content can be created, distributed and managed quickly – and in real time. Unlike other CMS providers, Contentful gives users more control: there are no predefined content models; they are free to choose for themselves.
Contentful fully embraces the principle of RESTful APIs. All types of content are distributed via interfaces and transferred to the desired channels. Whether it is (mobile) apps, websites, social media or other platforms: Contentful stands out with its ability to automatically and perfectly adapt content to various viewports.
With Contentful, workflows can quickly be set up, automated and optimised. The headless CMS facilitates and considerably shortens the entire process of content creation, management and delivery. By automating workflows, Contentful helps significantly reduce costs and conserve resources.
Contentful Solution Partner – dotSource
Contentful is the future-proof CMS for successful multi-channel marketing. As a Contentful Solution Partner and Consultant Partner, our team of experts is very familiar with the solution and its features. We support you in selecting suitable components, establishing the infrastructure, managing interfaces and making sure that your company benefits as much as possible.
Our Services as a Contentful Partner
We advise you on selecting a suitable CMS
We develop the right strategy together with you
Our team of Contentful experts devises a tailor-made concept for you
To ensure an outstanding customer journey, we implement user-tested user experience design on your website
Our experienced Contentful experts are at your side throughout the entire implementation process
With our extensive expertise covering a wide range of services, we make sure that your website is launched quickly
Contentful Reference: Successful Content Commerce
hagebau Creates Innovative Content Delivery Network
Thanks to Contentful, the hagebau Group is able to address customers in a targeted and personalised manner and pursue a modern content commerce strategy across all channels.
The customer experience has been significantly improved and hagebau partners benefit from increased reach and visibility.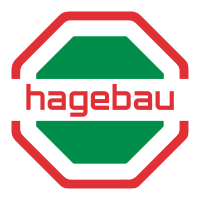 Flexible and Streamlined CMS: Contentful and dotSource Are Part of the MACH Alliance


Contentful as a headless CMS provides companies with the flexibility to manage and distribute content independently of the presentation layer. This is an important component of a modern and flexible system landscape.
As a certified System Integrator, we are happy to support you in the implementation and interface management. Together, we embark on the journey towards multi-channel marketing.
FAQ – Frequently Asked Questions About Contentful
01
What is Contentful?
Contentful is an API-first content management platform designed to create and manage high-quality digital experiences as quickly as possible.
02
How does Contentful work?
Contentful is a headless CMS, i.e. content creation and management are decoupled from content publishing and presentation. This enables users to freely and flexibly use content across all devices and channels.
03
Why should you opt for Contentful?
The strength of Contentful lies in its streamlined infrastructure, which allows for automated and highly efficient workflows. As a result, companies that engage in content marketing can address their customers even more professionally, effectively and quickly.
Want to learn more? I'm looking forward to your questions!