For years, industry leaders have trusted Stibo Systems to connect product, customer, supplier, and other corporate data. The company is part of the privately held group Stibo A/S, founded in 1794 and headquartered in Aarhus, Denmark.
With the master data management (MDM) platform STEP, companies have a central, cross-domain source for all master data – a single, trustworthy source for strategic information, effective decision-making, turnover growth and added value generation.


Our Services as a Stibo Systems Partner
Onboarding
Analysis of your requirements & creation of a solution concept
Development of data models and authorisation concepts
Process management & consulting regarding your workflow development
Organisation and implementation of training courses
Support in change management
Data Management
Support in data onboarding and data quality assurance
Cleansing, validating and optimising your data
Removing duplicates
Merging individual customer data into a »golden record«
Technical implementation of your data governance
Implementation
Implementation of your MDM system
Easy installation as well as update & operation of your system
Development of extensions
Connection to third-party systems (PLM, ERP, DAM, etc.)
Connection to customer, supplier and partner portals
Trust in the Know-How of a Stibo Systems Partner When It Comes to MDM
We will advise you on all relevant topics in the field of PIM/MDM, for example the development of a future-oriented data model or the development of comprehensive rights and role concepts. We will take care of the connection to third-party systems (e.g. digital asset management systems such as CELUM), the smooth operation of your system as well as the creation of SEO-relevant product descriptions.
We also offer services that go beyond system implementation, for example process management, change management and data governance. In short, our certified and experienced consultants support you throughout the entire project to significantly increase customer satisfaction with the help of a high-quality PIM or MDM system.
As a Stibo Systems channel sales partner, we also offer cloud-based product master data management to medium-sized companies.
Software users benefit from numerous advantages, for example the central management of product, customer, and supplier data and their decentralised use across all sales channels. The cloud-based solution thus has a positive effect on KPIs such as margins, conversion rates, and customer acquisition.
Stibo Connect 2020 – »Going Beyond Your Limits: Implementing a PIM/MDM System as Part of a Multi-Stream Project«
With a digital experience that is usually only average, but with concrete goals in mind, the CTO of a company faces various challenges on the way to digitalisation, for example the restructuring of change management, the ongoing structural organisation as well as the new definition of business models and value chains. In this regard, the CTO is not only a decision-maker, but also a guide and mediator. He/she is responsible for identifying the success factors for digitalisation, determining the most important areas for a digitalisation project and implementing changes successfully. Using a multi-stream project as an example, Sabrina Ley, PIM/MDM consultant and project manager at dotSource, shows you how the CTO can coordinate overlapping activities between different departments, such as PIM and e-commerce.
Stibo Systems' MDM system makes it even easier to analyse data in real time and derive recommendations for action. Not only does the STEP Uniform MDM platform facilitate the centralised storage of all your product information, but it also allows for the collection of information material from different channels. Further advantages are:
Multi-domain
Automation
Very good print-publishing processes
Data procurement
Quality check and validation
Automated copywriting
Time-to-market of products
Data processing and provision
Modelling capabilities
Asset management
Technical administration

Your Advantages with Stibo STEP
Thanks to its STEP MDM platform, Stibo Systems offers outstanding integration of large amounts of data with complex format options. Via built-in back-end applications, information data can be used automatically throughout the entire supply chain through configurable workflows. With STEP, we can create unique customer experiences for every marketing and sales channel of your business – regardless of the data model, format, language, and currency.
Cannibalisation by POS and online shops is avoided because customers do not receive redundant information, but are offered a consistent multi-channel experience. Stibo Systems is one of the world's leading providers of multi-domain master data management solutions. For years, industry leaders have trusted Stibo Systems to connect product, customer, supplier, and other corporate data.
Selected References in the Field of Stibo STEP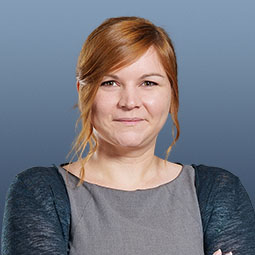 Want to learn more? I'm looking forward to your questions!
Jessica Seliger
Partner Manager