For many years, industry leaders have trusted Stibo Systems to connect product, customer, supplier and other corporate data.
The company is part of the privately held group Stibo A/S, which was founded in 1794 and is headquartered in Aarhus, Denmark.
With the MDM tool from Stibo Systems, also known as Stibo STEP, companies have a central, cross-domain and reliable source for all types of master data.
This information can be used for strategic planning, effective decision-making, revenue growth and value creation, representing an essential component of a constantly changing system landscape.
360-Degree Data Management with the Right System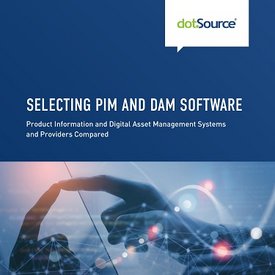 »Selecting PIM and DAM Software« White Paper
In our publication, we share valuable advice on how to select product information management (PIM) and digital asset management (DAM) software. The dotSource vendor matrix provides you with a practical overview of the most widely used solutions.
Improved Data Quality: Benefits of Implementing Stibo Systems
Increased Customer Satisfaction
Stibo Systems enables you to provide your customers with consistent, accurate and relevant product information. This enhances customer satisfaction and reduces complaints and return rates. Moreover, you can create unique multi-channel customer experiences – regardless of data model, format, language or currency. Cannibalisation between point of sale and online shops is avoided.
Efficient Processes and Decision-Making
Consistent and reliable data from a central source ensures efficient processes, well-founded decisions and data transparency. You reduce costs, make decisions faster, respond to changes flexibly and shorten time to market.
Effective Integration Options
Stibo Systems is scalable, can be individually tailored to your requirements and integrated into your existing system landscape. With automated data enrichment and integration of external data sources, you can effectively manage large amounts of data. Moreover, other systems and applications can be seamlessly connected.
Improved Quality and Conservation of Resources
Thanks to central management, automated data cleansing and quick data retrieval by Stibo Systems, data quality, efficiency, scalability and productivity can be significantly increased. The cloud-based solution facilitates excellent integration of large amounts of data with complex formatting options.
Better Control and Governance
With Stibo Systems, you can ensure better compliance with data standards and regulations such as GS1, ETIM and ECLASS. Benefit from enhanced security through extensive features and rights management.
Simple Onboarding and Use
With Stibo Systems, you can improve collaboration and management of data from different departments. Benefit from comprehensive documentation options and training materials that make the implementation and use of the system significantly easier.
Using These Features, You Can Create Added Value with Your Data
Built-in data quality checking and automated data cleansing
Configurable data validation rules and automation
Automation of approval and data enrichment processes (integration of external sources if required)
Flexible configuration of workflows for your processes
Advanced search and filtering capabilities for quick and accurate data retrieval
User-friendly and flexibly customisable interface
Easy integration with other applications, systems or BI services
Support for a wide range of data formats
Built-in configurable analytics capabilities and dashboards for analysing data and metrics
Flexible data mapping features
Flexibility for complex data models and processes
Centralised storage of all product and corporate data
Data exchange and effective collaboration between teams
Versioning and historisation of data changes
Individual rights and role management for access to data and features
Support for global data and industry standards
Translation and multi-language data management for global business processes
Benefit from Our Expertise: Our Services
Onboarding
Requirements analysis and concept creation
Development of data models and authorisation concepts
Process management and advice on workflow development
Organisation of workshops and training courses
Support in change management and implementation
Data Management
Support in data onboarding and data quality assurance
Data cleansing
Removal of duplicates (if required)
Merging of product and customer data to create a »golden record«
Technical implementation of your data governance
Automation of processes
Implementation
Quick implementation of the system
Support in updating and operating the system
Development of extensions
Interfaces and integration with third-party systems such as customer, supplier and partner portals
Implementation of quality gates
Connection of AI services and text generation tools
Support in migrating SAP ERP from R3 to S/4HANA
Assistance with migration to the cloud
Integration of Stibo DX
As a Certified Stibo Systems Partner, Your Project Is in the Right Hands with Us
We advise you on all relevant topics in the field of PIM and MDM. This includes, for example, the development of a future-oriented data model and a comprehensive concept regarding rights and role management.
Stibo Systems users benefit from centralised data storage and decentralised use across all sales channels. The cloud-based solution has a positive impact on KPIs such as profit margins, conversion rates and new customer acquisition. Moreover, the tool stands out with its optimised usability.
With dotSource as your partner, you have access to additional services that go beyond system implementation. Our certified and experienced consultants are at your side throughout the entire project. The goal is to significantly increase customer satisfaction with a suitable PIM or MDM system.
A Selection of Our Clients That Are Already Successful with Stibo Systems
FAQ – Frequently Asked Questions About Stibo Systems / Stibo STEP
01
How much does the MDM solution from Stibo Systems cost?
The price varies depending on different factors, some of which are listed below:
Number of data domains
Assets
Amount of data
Number of users
Desired scope of licence
Number of interfaces
As a certified partner, we are happy to advise you at any time.
02
Which interfaces can be set up with Stibo Systems? Can it be integrated with SAP?
The multi-domain MDM system offers numerous interfaces for seamless integration with other systems. These include ERP tools, e-commerce and content management solutions as well as external DAM software. Various interfaces can be set up with Stibo Systems, e.g. to SAP ERP, SAP Customer Experience (CX), Infor, Microsoft Dynamics 365, Adobe, TYPO3, Google, Google Vision, DeepL, SDL Trados, 2txt and YouTube.
The platform has a special SAP connector, which enables quick and easy integration with SAP ERP.
03
Is it possible to create print materials with Stibo Systems?
Yes, Stibo Systems offers a print publishing solution as part of its MDM platform. As a certified partner, we provide the three following modules:
Print Publisher with InDesign plug-in
Flatplanner for the semi-automatic creation of large documents such as brochures and campaign materials
AutoPage for the fully automatic creation of comprehensive catalogues
Other print service providers, for example Werk II / priint, can also be connected. Using these modules, you can export your data from the MDM system directly to the print application. This enables you to efficiently access uniform and consistent data for your catalogues, flyers and brochures.
If you are interested in this process, you can visit PIM & MDM for Print for more information.
Selected Stibo Systems References
Want to learn more? I'm looking forward to your questions!