commercetools stands for next-generation B2B and B2C commerce. With its flexible API-first concept, commercetools provides the ideal foundation for a modern microservices architecture. The world's leading provider of cloud-based headless platforms focuses on companies that are constantly faced with changing customer needs.
The MACH principles ensure that your company can respond quickly and flexibly to market trends with new commerce experiences.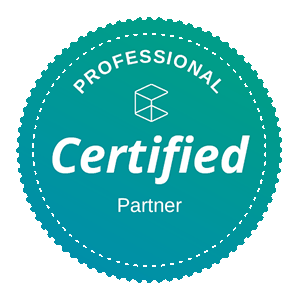 Learn More about commercetools Now!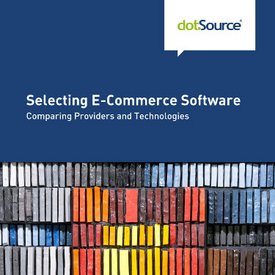 »Selecting E-Commerce Software« White Paper
We show you what constitutes a future-proof e-commerce system and evaluate leading providers such as commercetools.
As a commercetools Partner, We Support You Before, During and After the Implementation
Before the Implementation
We help you strategically focus on a modern e-commerce structure through our digital consulting services
We support you in building and optimising your IT infrastructure using a microservices approach, improving maintainability and reducing time to market
With a flexible headless approach, we tailor the user and brand experience according to your individual needs
During the Implementation
We efficiently implement your commercetools project by using agile methods and project approaches such as Scrum
By means of a flexible interface architecture, we enable seamless connection to third-party systems (iPaaS)
We pave the way for the use of a headless CMS to create a high-performance content commerce platform
After the Implementation
We are happy to take over the monitoring of your IT processes and cloud solutions as part of our cloud service management
As a digital marketing agency, we optimise your conversions and advise you on your marketing strategy
We support and train your employees in various disciplines, for example with our web analytics and UX training courses, to ensure that they can optimally use the new e-commerce platform
Benefits of commercetools Frontend
Next-Level Content Commerce with Modular Principle
Quickly create compelling content for customers across all channels with centrally managed storefronts and ready-to-use components – without major programming effort.
Internationalisation
Publish shop and website content in different languages with powerful localisation tools, taking into account the corresponding currencies.
Personalised Shopping Experiences
Serve various target groups by configuring the content stored in your back end so that it can be dynamically delivered to your storefronts.
Limitless Options with Scalable APIs
Optimise data exchange through seamless communication between your front end and back end.

From Monolith to Microservices: Successful Online Shop Migration with commercetools
The success story of the publisher C.H.Beck, the market leader for legal literature in Germany, illustrates the benefits of implementing a microservices architecture. With thousands of new releases every year and several hundred thousand product data updates every day, standard software quickly reaches its limits.
Our success story shows how the dotSource digital experts replaced the monolithic in-house development with an API- and cloud-based commercetools solution.
MACH Principles at a Glance
Microservices
The microservices approach brings together small, independently functioning components to create sophisticated applications. In comparison to monolithic architectures, the development of these applications is faster and more reliable.
Benefit from more reliable applications with shorter response times
API-First
APIs (application programming interfaces) simplify and accelerate the exchange of data between different systems. Take advantage of an ecosystem that is entirely based on APIs.
Connect features with each other – without major effort and in real time
Cloud-Native
commercetools fully focuses on a cloud infrastructure. This allows for even more flexibility and scalability.
Decouple yourself from server hardware and other dependencies
Headless
The clear separation between storefront view and back end gives you freedom for innovation and limitless experimentation.
Minimise risks and keep development cycles short
What Are the Benefits of commercetools?
With the commerce-as-a-service specialist commercetools, you can count on a partner whose agile solution perfectly reflects the versatility and fast-paced nature of modern commerce. For companies, this means maximum independence in the selection and integration of any front-end system. The solution enables B2B and B2C merchants to create impressive and individual shopping experiences on all devices and sales channels. Existing business processes and technologies can also be flexibly connected.
Your Benefits at a Glance
Powerful, stable infrastructure
Automatic scaling
Fewer resources required
More agility through modern microservices architecture
Save Time and Money in Your commercetools Project with dotSource's Customer Engagement Framework
TIME IS MONEY. Our framework comes with many pre-built modules, processes and features, allowing you to shorten the overall project duration by up to two months.
dotSource Is Your commercetools Agency
E-commerce is characterised by constantly increasing and changing requirements. That is why retailers and manufacturers need flexible software that quickly and professionally supports them in implementing their own strategies. Otherwise, customer experience – and hence companies – will fall by the wayside. dotSource has been a business partner of commercetools since 2016 and is the first service provider worldwide to be certified by the software manufacturer.
We are the world's first certified commercetools partner with over 20 professionals and numerous certifications
We have been implementing commercetools projects since 2016
We have wide-ranging expertise – from the implementation of multi-client platforms to the management of online shops with 17 million products and several hundred thousand updates per day
Respond Quickly and Flexibly to Market Changes: Benefit from Our MACH Alliance Membership During Implementation


commercetools was among the founders of the MACH Alliance in 2020. The cloud-based headless platform with its flexible API-first concept is the ideal foundation for creating a modern and flexible e-commerce infrastructure based on microservices.
We are a certified and experienced System Integrator. With our expertise, we are happy to support you in the implementation of commercetools. Together, we create a powerful and agile system landscape that is tailored to your needs.
FAQ – Frequently Asked Questions About commercetools
01
Why should you opt for commercetools?
The e-commerce solution is considered a global leader in the field of cloud-based headless platforms, with the Gartner® Magic Quadrant™ ranking commercetools as a leader in digital commerce. Through its API-first concept, commercetools provides the ideal foundation for a modern microservices architecture. The architecture significantly promotes agile processes and makes the software solution extremely flexible. This allows your company to respond quickly and adequately to changing market trends and customer requirements. With commercetools, you can create individual and exceptional shopping experiences for your customers – across all channels and devices. 02
How much does commercetools cost?
The pricing of commercetools is client-specific and can be determined upon request. However, you have the option of testing the software for 60 days – in its entirety and free of charge. 03
What are the MACH principles?
MACH stands for Microservices, API-first, Cloud-native and Headless. All MACH principles have in common that your applications can be developed and adapted faster, more flexibly and more reliably. The headless principle, for example, allows you to customise the storefront of your online shop without having to interact with the back end. The microservices approach brings together small, independent components to create sophisticated applications, while the API-first principle decouples data exchange between different systems. This way, you benefit from a comprehensive cloud infrastructure. As a result, you can respond to the needs of your customers and your company in next to no time.
04
How much experience does dotSource have with commercetools?
dotSource is the world's first certified commercetools partner. Our team consists of over 20 experts with numerous certifications. We have been implementing commercetools projects since 2016 – from the migration and management of comprehensive online shops with millions of products and the development of API-based e-commerce solutions to the implementation of multi-client platforms. We are trusted by renowned companies such as C.H.Beck, TROX and PRECITOOL.
Want to learn more? I'm looking forward to hearing from you!