On the Way to a Digital World
Digitisation is progressing at a tremendous pace, but its consequences for the economy and society are currently difficult to predict.
The effects of digitisation in the form of big data, e-commerce, cloud computing and change management have long been felt in companies. Entire business models, value chains, and industries are under scrutiny or at least facing the challenge of actively addressing digitisation.
In competition with data-driven pure players like Amazon, nobody can afford to renounce automation and the power of data anymore. Processes and data are digitised and the systems are configured so that everything is linked in real time.
As our entire lives move towards the digital world, it is only a matter of time before it becomes standard.
This white paper presents the most important topics that are currently being discussed in B2B and B2C. These include:
The new consumer and its cross-channel shopping expectations
The smartphone as a catalyst of digital change
Processes and roles in digital commerce
Technologies for a digital experience
Topic Overview: Digitisation in B2C and B2B
The digital customer
B2B consumers embracing e-commerce
Why is digital transformation so important?
Mobile is becoming indispensable
Processes and roles in digital commerce
Which technology manufacturers offer »digital experiences«?
Traditional marketing campaigns are dying out
Download now!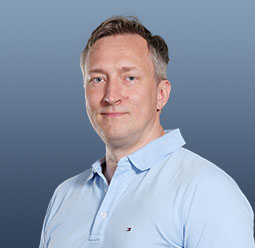 Do you want to learn more? I'm looking forward to hearing from you!
Marcus Wagner
Digital Business