TESSA DAM is a digital asset management solution developed by EIKONA Media GmbH, a company based in Volkach, Germany. The system focuses on product information management (PIM) and digital asset management (DAM).
TESSA DAM is particularly suitable for manufacturers and retailers who want to ideally manage digital assets, i.e. documents, images and videos. It can either be used on its own or in combination with a PIM system.
Our DAM experts assist you in managing your media files in a central digital tool.
You will receive support in the technical implementation as well as in the integration into your system landscape and into existing processes.
In addition, we provide workshops & training courses on how to use the new system.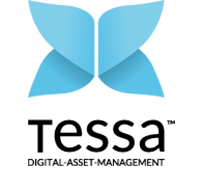 With Extensive Know-How, Our DAM Experts Implement the TESSA DAM Software for You
Requirements Analysis and Concept Creation: We analyse your processes, develop an individual solution concept for the TESSA DAM solution and create a corresponding roadmap.
Development of a Filing Structure and an Authorisation Management Concept: We customise the digital asset management system according to previously defined management rules.
Implementation of the DAM/MAM System: Besides the technical implementation, we configure TESSA DAM based on the jointly developed solution concept.
Connection of Third-Party Systems to TESSA DAM: We connect other systems, for example your online shop, ERP or CMS system.
Workshops and Training Courses: In order for your employees to be ideally prepared for working with TESSA DAM, we offer system training remotely or on-site.
Process Management and Consulting: We support you in developing new workflows.
Change Management: We analyse your processes and help you to establish new routines.
Development and Extension: We also provide support after the system has been implemented. You can contact our experts at any time.
Data Governance: We support you in data onboarding and data migration. In addition, we assist you in ensuring data quality as well as in enriching and distributing your data.
Modern Multi-Channel Marketing with Modern Digital Asset Management
In order to be able to perfectly categorise content on various channels with their different requirements, a good data structure is indispensable. A digital asset management (DAM) system, also called media asset management (MAM) system, is typically used for this purpose. It organises media files according to a certain principle and processes, manages and stores them.
The cloud-based TESSA DAM software also enables flexible access to the digital media created. The more channels a company uses, the more sense it makes to implement a DAM system.
Our experienced DAM/MAM experts know about the challenges and opportunities that arise from the implementation of a data management software. Together with you, they develop a suitable concept and analyse your processes as well as data structures in order to create user stories. Based on the requirements of your company, a solution concept for the TESSA DAM solution is developed and implemented.
Besides the technical implementation, we configure the new system in line with your requirements concept in order to create the ideal prerequisites for clean and efficient data management.
We also implement the interfaces required to connect TESSA DAM to your existing systems and migrate your data to the TESSA DAM solution.
Furthermore, we support you in optimising and enriching your data and in terms of maintenance and updates after the TESSA DAM software has been implemented. Our experts assist you in the further development of the system as well as in onboarding and data governance. Proper documentation by our project managers also ensures long-term project success.
With TESSA, you benefit from a digital asset management system whose features are based on the long-standing experience of PIM and DAM experts. It combines numerous features that simplify and optimise working with media files – from creation to publication. What advantages does the DAM solution offer for your multi-channel marketing?
Complex search options enable efficient workflows
Flexible format conversion for each channel (PNG, JPEG, TIFF, etc.)
Excellent usability thanks to user-centric customisation options and dedicated quality assurance
Display of individual content on different distribution channels
RESTful APIs enable connection to almost any software (including PIM, CMS, ERP) with a media database
Role and authorisation management protect your data from access by third parties
Drag & drop features enable efficient processes
Placeholder assets ensure fast placement of campaigns
Availability of plug-ins for Adobe products such as InDesign and Photoshop
Product data at a glance with automated Excel spreadsheets
Distribution of assets in web portals
Creation of PowerPoint presentations, for example a product line-up in CI-compliant layout
Version management creates transparency in data changes
Want to learn more? I'm looking forward to your questions!