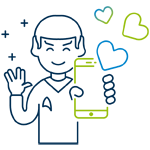 We believe that digitalisation makes the world a better place.
It connects people worldwide and simplifies access to products, services and knowledge. It makes processes more efficient and hard work easier. Digitalisation allows us to do more. It also allows us to do things differently: faster, better, more easily, earlier, more often, bigger – anywhere and at any time.

We believe that every company has the potential to become a digital champion.
Digital solutions are for everyone. Whether it is a major corporation or a medium-sized enterprise, a start-up or a tradition-steeped company, a global or a local player: we believe that every company can become a digital pioneer with an innovative spirit and the right strategy and thus position itself for the future.

Every employee should have the opportunity to develop their full potential.
We are convinced that each of our employees is capable of achieving great things. Freedom, independence, participation in the community, a sense of purpose in one's work and the development of each individual's potential are central values of our corporate culture.

We want to share our success with society.
In our view, digitalisation and humanity are not mutually exclusive, but complement each other and are even dependent on each other. That is why we are committed to the SDGs and a sustainable and forward-thinking society, train professionals for future-proof jobs and impart our digital knowledge to young people through extracurricular activities.


During the entire project period, dotSource distinguished itself as a competent development partner who always stood by us with professionalism and creative ideas and played a major role in the success of the subproject 'online shop'.
dotSource has been a committed partner throughout the project, helping us achieve our goals.
The cooperation with dotSource allows us to benefit from extensive knowledge transfer in the field of e-commerce and online marketing and we now feel ideally prepared for the future in platform business.
With the new Lesershop24, we have got a modern appearance and excellent technical performance for the next few years.
Many thanks from Dusseldorf to Jena! Thank you for your patience that you had and still have with us. Thank you for your commitment and your passion for our common project. Thank you for the very good work you are doing. Thank you for the good mood that you always spread. Thank you for allowing us to work with you on this project.
With our new B2B online shop solution, we are giving hagebau retailers the opportunity to serve their professional customers across all channels and thus gain long-term market share.
Musicstore.de has become a visually and functionally attractive platform that offers our customers in 30 countries and 10 languages more than just the ability to buy instruments and accessories. They get a shopping experience that rocks.
Together with dotSource, we were able to significantly advance our B2B e-commerce platform. We also built up important e-commerce know-how by having our employees participate in the workshops and training courses at Digital Business School. This way, dotSource has significantly supported us in all our e-commerce activities.
The cooperation with dotSource is excellent, the helpfulness of the team and its response times are fantastic. We feel optimally cared for at all times. Even short-term requests and ideas are taken seriously and answered with constructive feedback.
With its tireless dedication, dotSource has more than met our demands.
The experience of the past few years has shown that digital sales and service channels are increasingly required by our business customers. Together with dotSource, we quickly reacted to this development and are proud to be among the pioneers in our industry with our platform P3.
Our Mission: We Digitalise Marketing, Sales and Services.
Digital Technologies Are Changing Rapidly
We support companies in their digital transformation and in showcasing their brands. Digital transformation is not a problem that – once overcome – never occurs again, but a permanent process. After all, the Internet and digital technologies are changing rapidly and constantly.
Our aim is to show our clients the opportunities that this presents for their core business and for new business models.
Digital Not Only Makes You Effective, But Also Happy
Since 2006, we have specialised in observing our digital environment and assessing which digital trends and developments have the potential to make lasting improvements to certain business areas.
Thanks to the latest technologies, there are always new ways to make everyday work and processes more effective and thus make customers, partners and employees happier – especially in marketing, sales and service, but also within the company.
Digital Business Is People Business!
We share our insights on a daily basis when working with our clients – from requirements elicitation, system selection and implementation to the further development of existing solutions. Our guiding principle is »Digital business is people business«.
We always keep user satisfaction in mind. That is why we rely on innovation-promoting methods that allow everyone to contribute their individual perspectives.
What's Next? – Journey to Jupiter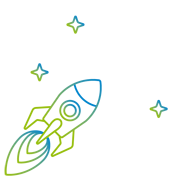 The success story of dotSource began in 2006 with three employees. Since then, we have grown organically and with our own resources year after year and have established ourselves as one of the top 10
e-commerce agencies in German-speaking Europe. Today, more than 500 digital natives are part of our mission. Companies like Esprit, EMP, BayWa, Axel Springer, hagebau, C.H.Beck, Würth and Netto Digital trust in our competence. However, we do not want to rest on our laurels. We still have a lot of plans for the future!
As Part of Our »Journey to Jupiter« (By 2027), We Want To
turn even more brands, retailers and manufacturers into digital champions
have up to 1,000 motivated and qualified employees
generate 100 million euros in turnover with our high-quality, client-focused work
Find Out More about dotSource, Our Teams and Our Corporate Philosophy