Using Magento 2 (now Adobe Commerce), you can devise and develop omnichannel commerce for B2B and B2C customers on a single platform. The e-commerce solution goes far beyond the mere process of selling products online. Magento 2 is one of the most advanced e-commerce technologies, owing to the large community of developers and partners as well as its outstanding extensibility, scalability and flexibility.
Get Your E-Commerce up to Speed!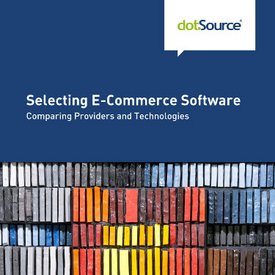 »Selecting E-Commerce Software« White Paper
We show you how to build a successful online shop with the right e-commerce software. Find out how Magento 2 / Adobe Commerce compares to other e-commerce solutions and learn more about the requirements a modern online shop system has to meet.
We Support You Before, During and After the Implementation of Magento 2
Before the Implementation
Consulting and development of personalised solutions based on your specific needs
Assistance with setting goals and defining KPIs
During the Implementation
Configuration of your applications and systems
Implementation of Magento 2 based on your requirements
Integration of Magento 2 into your existing system infrastructure
After the Implementation
Continuous assistance so that your solution remains successful in the future
Ongoing support as a UX agency to ensure an excellent user experience
Enhancing the performance of your online shop via professional A/B testing
Aiding in the automation of your business processes to ensure smooth workflows
Providing training and use cases to strengthen the knowledge of your employees
In-depth business intelligence consulting services to help you accomplish and report your business goals
dotSource Is Your Magento 2 Agency

Since 2008, dotSource has been working in partnership with the e-commerce solution for medium-sized and large enterprises. Our goal is to support you in developing your idea from the very beginning and providing a user-friendly experience for your customers.
Our experts help in creating memorable experiences for your customers with the help of
detailed process analyses
clear system structures
a wide range of features
All this is based on seamlessly integrated system architectures.
Benefits of Magento 2 at a Glance
Features specifically tailored to B2B and B2C systems
Excellent extensibility thanks to more than 3000 plug-ins
Measurable success through dashboards and reports
Data hosting on-premise or via an Adobe cloud solution
Maximise your company's potential by integrating solutions such as marketing automation software, analytics tools and content management systems into your Adobe platform
Global solution: Magento 2 is a multi-client, multi-currency and multilingual system
Personalisation Options: Address customers directly by creating personalised banners, product selections and marketing promotions.
Page Builder: Quickly and easily create appealing content pages without any prior programming knowledge.
Magento BI: Set up personalised dashboards to effectively visualise your KPIs and data and prepare comprehensive reports.
After-Sales Service: Support your customers after they make a purchase – with order updates, delivery tracking, return processes and other contact options.
Performance: Benefit from quick load times through optimised caching and modified images – also for mobile websites and progressive web apps (PWAs).
PWA Studio: Create PWAs using the integrated development environment and build great mobile experiences for your customers.
B2B Processes: Provide your B2B customers with intuitive reordering options and map their purchasing patterns, including rights and role management.
Combination of B2B and B2C: Manage all your relevant sales processes for B2B and B2C using a single system.
Adobe Sensei: Accelerate the customer journey using AI-powered search and personalised product information while also offering individual consulting with cross-selling and upselling bundles.
Which Magento 2 Versions Are There?
Two Magento 2 versions are available: the free Magento Open Source version (previously Community Edition) and the paid Adobe Commerce version (previously Magento Enterprise Edition / Magento Commerce).
Both versions are based on the core functionality of Magento 2, with both displaying categories, products and prices in a similar manner and offering multi-stock management with several warehouses and inventories.
Furthermore, it is possible to link both versions with other IT tools via APIs or run the system headless. Integrate your Magento solution into your PIM or ERP system!
The two versions differ mainly in terms of B2B features, personalisation, reporting and BI. Not sure which version suits your company best? Our experts will be happy to help.
The Following Clients Trust in Our Magento 2 Expertise
FAQ – Frequently Asked Questions About Magento 2
01
How much does Magento 2 cost?
The price varies based on the version used. Magento Open Source is the free version of Magento. The licensing costs of the enterprise edition (Adobe Commerce) depend on different factors such as the company's size and revenue.
02
What is the cost of migrating to Magento 2?
Since Magento 2 is a scalable software solution, you should carry out the migration from Magento 1 to Magento 2 with our certified experts. The migration from other e-commerce solutions to Magento 2 also has its own specific hurdles. We support you from consulting to data migration and make you an individual offer.
03
What is the difference between Magento 2, Magento Open Source and Adobe Commerce?
Magento Open Source and Adobe Commerce (previously Magento Commerce) are different versions of the e-commerce system Magento 2. The free Open Source version and the paid Adobe Commerce version have the same core functionality. Magento Open Source comprises the basic e-commerce features, making it a suitable alternative for small and medium-sized companies as well as online shops. Adobe Commerce offers numerous supplementary B2B features, personalisation and evaluation options (BI). As part of Adobe Experience Cloud, Adobe Commerce opens up further growth opportunities for your company, for example in terms of customer experience using Adobe Experience Manager (CMS) or Adobe Campaign (marketing automation). Adobe Commerce is perfectly suitable for both up-and-coming companies and large enterprises.
Want to learn more? I'm looking forward to hearing from you!