Salesforce Commerce Cloud at a Glance
Salesforce Commerce Cloud is a powerful, world-leading e-commerce solution. The platform can be customised for any industry – whether B2B or B2C.
You focus on selling the products. Salesforce (software as a service) takes care of the technology within the cloud. As part of Salesforce, the solution can easily be integrated into other products of the company.
Its features let you optimise your online shop and increase sales. Two different versions help you reach these goals:
Salesforce B2B Commerce: specifically created to meet the needs that arise in a business context
Salesforce B2C Commerce: specifically tailored to the requirements of end customers
Why Salesforce Commerce Cloud Is Worth It
Personalised Recommendations and Higher Conversion Rates
Thanks to Salesforce's »Einstein« AI, you can provide your customers with personalised recommendations based on purchasing behaviour and interests. AI can lead to more time spent on your website and higher sales figures.
Extremely User-Friendly
The solution boasts a high degree of usability for back-end users. Pre-built features according to the low-code approach help employees make simple configurational changes to the storefront themselves. Sandboxes and modern scratch orgs assist with development, testing and training. With the help of the Storefront Reference Architecture, online shops can be created quickly.
360-Degree View of Interactions
With Salesforce Commerce Cloud, you collect all your key customer and marketing data in one place. This means you always have an overview of your customers' interactions with your brand, which helps you create personalised campaigns more easily.
Support Omnichannel Sales
In addition to integrating your products with various digital channels such as apps and social media, you can also offer them in brick-and-mortar stores and through other sales channels.
Regular Updates
Thanks to platform-as-a-service technology, the infrastructure of your system is in the cloud. Software updates, migration to the next higher version as well as maintenance of servers take place automatically and regularly.
Shop Everywhere: Mobile-Ready for B2B and B2C
Offer your customers an excellent shopping experience, regardless of the device. The e-commerce platform is optimised for mobile devices. This ensures an outstanding experience – whether for your business or as a consumer.
Wondering If Salesforce Commerce Cloud Is the Right Fit for Your Business?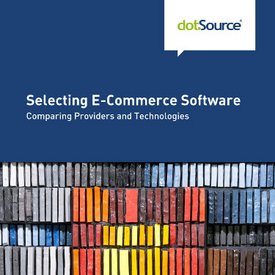 You know the system's benefits, but still want to compare them with those of other providers?
Download our »Selecting E-Commerce Software« white paper now. In addition to information on Salesforce, you will gain insights into other providers.
A Seamless Customer Experience with Salesforce Commerce Cloud – Our Services
Analysis and Concept Creation
We support you in the
Implementation and Integration
We are your partner for the
development and implementation of an online shop
seamless integration of the online shop with existing Salesforce solutions
connection of additional systems (e.g. enterprise resource planning tools, payment solutions, etc.)
development and implementation of a modern web design, including usability and user experience testing (UX agency)
integration of further Salesforce products as a Salesforce agency (upon request)
Support
The dotSource team offers you
project managers with extensive expertise in agile software development and comprehensive documentation to lead your project to fast results
training for your employees in using the system
valuable tips on optimisation opportunities
Salesforce B2B Commerce
With Salesforce B2B Commerce, you can offer your business customers the kind of shopping experience they would expect in their private lives. Shop conveniently – anytime, anywhere and on any device.
Furthermore, you benefit from
a simplified shopping experience through features such as fast reordering, account hierarchies, contractual discounts and much more
a reduction of manual internal tasks thanks to real-time customer data and Flow Builder
launching your offers on the market in just a few weeks and developing new business models on demand with subsequent implementation
Salesforce B2C Commerce (Formerly Known as Demandware)
Salesforce B2C Commerce is tailored to the requirements of your end customers.
It allows you to
create personalised campaigns, promotions and A/B tests without IT support
deliver a consistent and smart shopping experience for your customers – both online and offline
simplify shopping for your B2C customers through a wide range of mobile-first features
access the online shop and order histories in real time
expand your reach by linking to social media, such as Instagram or Facebook
sell goods from the entire range on the spot and ship them immediately


Success Stories – Thriving with Salesforce B2B Commerce and Salesforce B2C Commerce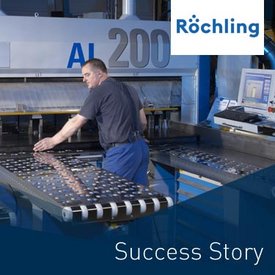 A Modern and Individual E-Commerce Platform with dotSource, Salesforce and Agile Processes
Learn more about how the dotSource team modernised Röchling's IT landscape with Salesforce's powerful commerce solution. This has significantly increased the level of service provided to Röchling's customers, partners and suppliers.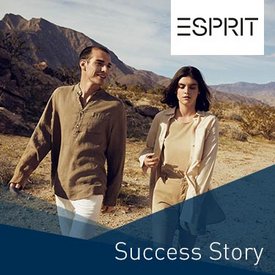 Multi-Cloud Business with dotSource and Salesforce for the World's First Lifestyle and Fashion Brand
Strong brands need innovative solutions. ESPRIT, the world's first lifestyle and fashion brand, is no exception. Read our detailed project description to find out how the company uses Salesforce B2C Commerce to strengthen its brand image and customer loyalty internationally.


Salesforce B2B Commerce Demo – How to Succeed with the Digital Experience Platform
In this video, our expert demonstrates the interaction between Salesforce B2B Commerce, Salesforce Sales Cloud and Salesforce Pardot. Using the example of a manufacturer of machine parts, he shows how prospects become customers online. Crucial to this is the relationship that companies maintain with (potential) customers at every stage of the customer journey.
Migration to Salesforce Lightning – Modern User Interface and Optimised User Experience
What Is Salesforce Lightning?
Lightning is the current version of Salesforce, introduced in 2015 as an upgrade of the previous Classic version. With it, Salesforce delivers various new features for Salesforce B2B Commerce.
Lightning offers the following benefits:
How Do You Make the Switch from Classic to Lightning?
Are you using Salesforce B2B Commerce and want to switch to Lightning?
To ensure that you make the most of the benefits that Lightning has to offer, the switch should be well thought out and properly structured. As a Salesforce agency, we provide you with support:
We transfer existing customisations to the Lightning system so that you can use the full range of features in your online shop
Our experienced team of Salesforce experts will ensure the correct switch to Lightning, allowing you to use other Salesforce features such as order management or loyalty management in the future
We train your team in using Lightning
Why Your Project Is in Safe Hands with Us
Trusting Partnership
As an official Salesforce partner, we have a high level of expertise in Salesforce B2C Commerce (formerly known as Demandware) as well as Salesforce B2B Commerce and are in close contact with the software manufacturer.
Concentrated Expertise
Our Salesforce team consists of over 50 specialists with relevant certifications. These include certified Salesforce Commerce Cloud developers, Salesforce Core Product consultants and Salesforce B2B Commerce Cloud developers.
Individual Development
We tailor the Salesforce solution to your requirements. For example, the efficient digital processing of returns is possible with our customer self-service portal.
Our Salesforce Commerce Cloud References
FAQ – Frequently Asked Questions About Salesforce Commerce Cloud
01
I am using the ERP system from SAP. How can it be migrated?
Our partner Vigience has developed a ready-made connector called »Vigience Overcast«. It displays various types of real-time data from your SAP ERP system in the Salesforce Commerce Cloud order screen. This is made possible by a simple configuration.
The benefits are:
Within a few days, you get an ordering portal with an integrated SAP ERP system
Your customers can independently query data such as order status, shipment tracking, product availability and prices at any time
Sales representatives receive data from the online shop in real time
Your customers' satisfaction increases; development and service costs are reduced
We would love to help you migrate. Get in touch with us!
02
I need a powerful and scalable e-commerce system as quickly as possible. What can I do?
Salesforce's Quick Start Commerce solution can come in handy when time is of the essence. As a Salesforce partner, dotSource can help you get started in e-commerce in record time.
We Also Support You with Other Salesforce Services
Want to learn more? I'm looking forward to hearing from you!