A digital experience platform (DXP) enables the central orchestration of modular system landscapes. Provide users with a consistent, digital and data-driven experience across all channels – along the entire user lifetime journey. With a DXP, you are able to tailor all digital touchpoints contextually and according to individual needs.
We support you in setting up your own DXP. We help you implement and integrate various solutions from content management systems (CMS) to e-commerce software, product information management (PIM) tools and more, creating a coherent system architecture. We proceed module by module – just like when building a space station.
There Is No Digital Transformation Without a DXP! Get More Information in Our White Paper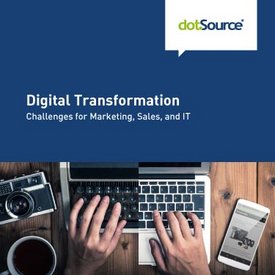 In our »Digital Transformation« white paper, we show you how your digital transformation can succeed with the right mindset and optimised processes. For this purpose, we describe the shift from stand-alone CMS solutions, e-commerce software, PIM tools and customer relationship management (CRM) systems to comprehensive digital experience platforms.
Digital Experience Platform – The Road to the Digital Space Station

Digital Experience Platform – With Our Services, You Are Ready to Take Off
Before the Implementation – Planning Is Everything
Joint development of a strategy, concept and UX design for your DXP
Analysis of your existing system landscape and evaluation of opportunities
User-centric requirements elicitation to avoid undesirable developments
During the Implementation – The Rocket Takes Off
Creation of a seamless user experience across all channels
Integration of your systems (CMS solutions, e-commerce software, PIM tools, etc.) and docking of your modules to form a coherent DXP
Migration of your data and workflows
After the Implementation – The Digital Space Station
Benefits of Digital Experience Platforms at a Glance
Digital experience platforms enhance user experience. A better user experience helps you
increase your conversion rate
grow your business
provide your customers and employees with an easy-to-use and accessible platform
A DXP brings together various systems on one platform. The integration of business intelligence solutions, for example, enables you to
boost your efficiency and streamline processes
personalise customer experiences in a data-driven manner, which in turn leads to stronger identification and more positive interactions with your company
The DXP Omnichannel Experience at a Glance

Address Different Target Groups!
Deliver the perfect experience to every target group – from authors, merchants and users to customers – by providing high-quality content on the right channels – anywhere and at any time.
Use All Channels!
From traditional devices such as smartphones, tablets and desktop PCs to smart home systems and billboards: optimised omnichannel performance allows you to always engage your target groups with consistent experiences in the right place.
Unleash the Full Potential!
Create a consistent look and feel across all channels. Various personalisation options, a 360-degree view of the customer as well as a wide range of system integrations and modular extensions are available to you.
DXP – Book a Free Consulting Session
The road to your own digital space station may seem daunting at first glance. However, our experts will build the right launch pad to help you turn your vision into reality.
DXP vs CMS – What Is the Difference?
With content management systems, you can quickly and conveniently put content on your website. They are easy to implement, uncomplicated to use and have been established on the market for years. A DXP, by contrast, focuses on user experience in its entirety. To meet all necessary requirements, it brings together relevant services on one platform using an innovative approach. Compared to a CMS, it comes with a significantly wider range of features.
Content
A DXP puts its focus on user experience and goes beyond the content management capabilities offered by a CMS.
User Lifetime Journey
A DXP helps create seamless experiences across all channels.
Data Analytics
In comparison to a CMS, a DXP provides you with more comprehensive analytics options.
Internationalisation
Advanced features such as a content delivery system (CDS) provide your DXP with more internationalisation options than a CMS.
Scalability
A DXP is far more scalable and customisable than a stand-alone CMS.
System Integration
Make use of a DXP's in-depth integration options for various systems such as e-commerce software, CRM solutions and marketing automation tools.
Do you want to learn more? I'm looking forward to hearing from you!