We Work and Live According to the Principles of the Agile Manifesto
We work in an industry driven by constant innovation. That is why fast responsiveness is essential for us. The principles of the Agile Manifesto help us to embrace agility in our everyday working lives and are central elements of our corporate philosophy. Even though we consider processes, documentation, contracts and plans to be important and helpful, we believe in the following principles when in doubt:
Individuals and Interaction over Processes and Tools
The human being is the centre of our attention. No matter how well documented a process may be, it can never replace personal conversations and direct exchange.
Functioning Software Is More Important Than Comprehensive Documentation
We are focused on results. Completing a task is more important to us than creating a PowerPoint presentation.
Cooperation with Clients Counts for More Than Contract Negotiations
Our teamwork revolves around our clients and the challenges they face. Interacting with them is more important to us than formalities.
Responsiveness to Changes Is More Important Than Following a Plan
We work in a goal-oriented manner, but are also willing to deviate from the original plan if it makes sense for the team, the organisation and the client.
Continuous Development Thanks to Communication & Collaboration
For our clients, we have made it our mission to identify new digital trends at an early stage, constantly explore new technologies and keep learning new things. However, not every dotSource employee can know everything. The close networking and lively exchange within our company are our great strength. Not only do various tools and formats ensure constant knowledge transfer, but they also create a strong sense of family cohesion at dotSource.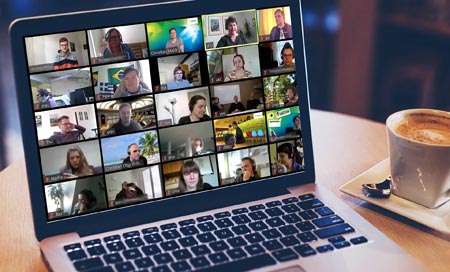 Sharing Is Caring!
Those who share knowledge are relevant. After all, digital success requires permanent change, which means that all employees need to constantly expand their skills.
To stay up to date, all dotSource employees gather for the »Hacktag« every two weeks. This gives us the opportunity to inform each other about current developments, successful projects and technical innovations. The »Lunch & Learn« format, which combines lunch with learning, is also very popular.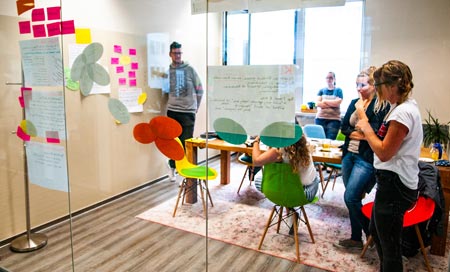 Those Who Do Not Experiment Lose!
»Encourage wild ideas« is one of our basic rules of collaboration. Playful approaches such as design thinking and Lego Serious Play help us in our everyday agency life to make the isolated thoughts and ideas of our colleagues visible.
In addition, the annual dotSource Hackathon offers all employees the opportunity to simply try things out and give their »wild ideas« space – far away from everyday project activities.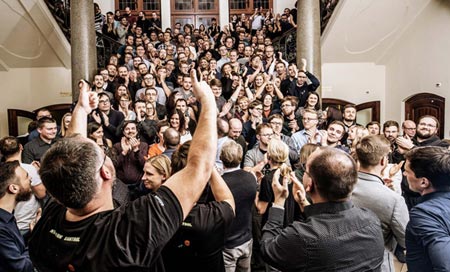 Celebrate Successes!
Of course, we want to keep getting better as an organisation. However, it is just as important to recognise our shortcomings as it is to keep reminding ourselves of what we have achieved so far, of our strengths and talents.
After putting in the hard work together, release parties, our agency's birthday party, the Christmas party or even the company-wide team event in summer are a great way to experience our team spirit and a welcome opportunity to look back on the journey we have taken together and properly celebrate our teams' achievements.
Those who want to work innovatively need flexible spaces for creative collaboration. This is why office architecture serves us as a communication tool and is a central element of our HR strategy. It is not only bright, glazed offices and spacious meeting rooms, but also cosy seating areas and kitchenettes that reflect the mindset of modern work. Changing the place of work according to individual needs is explicitly encouraged – and so is networking across teams.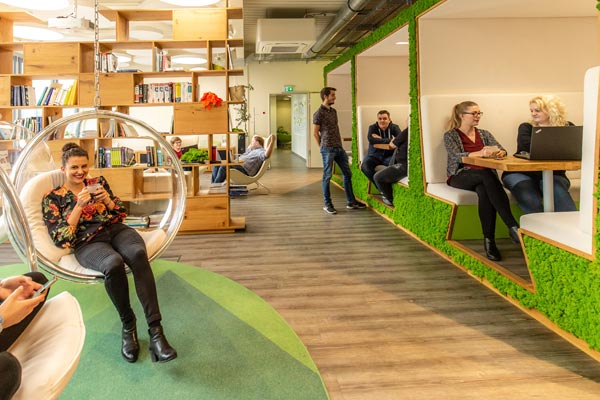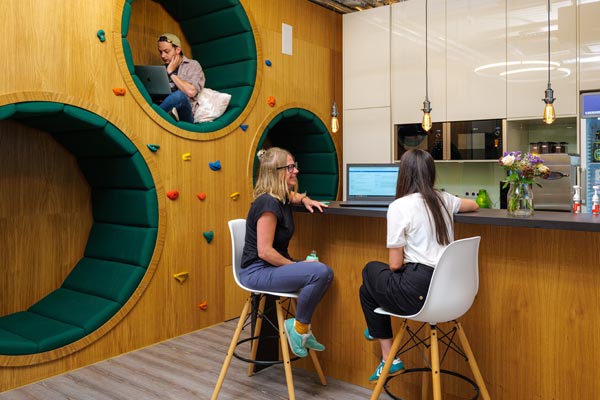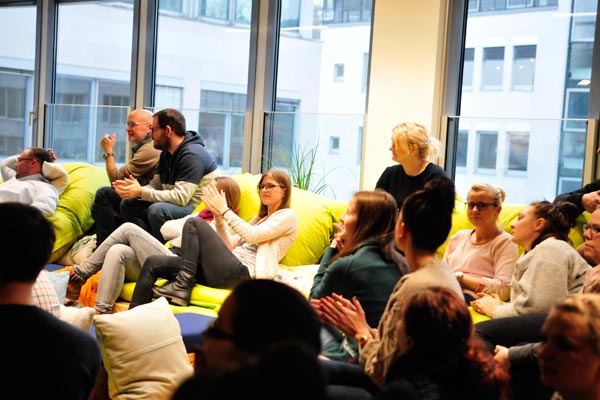 Working according to agile principles is promoted not only through our tools and our corporate culture, but also through the design of our agency premises.
Cramped, sterile and homogeneous offices inhibit the productivity and creativity of employees and are therefore an absolute no-go for us. Our agency premises are characterised by an open architecture that makes the transparency we embrace visible. In our offices and common rooms, whiteboard walls that people can draw on encourage spontaneous concept drafts and brainstorming sessions.
Informal spaces such as lounges and »playrooms« promote the exchange of information with colleagues as well as the visionary spirit of our teams. If the task at hand requires increased concentration, employees can retreat to quiet rooms – a library atmosphere just like in the good old days at university.
Employees who only need to isolate themselves visually in order to focus on their work benefit from room-in-room concepts such as our seating niches. Our offices are places to meet, where every employee and his or her individual needs are taken into account. This is also reflected in the results.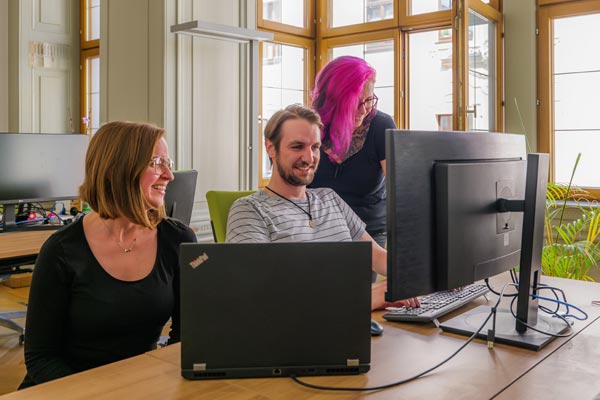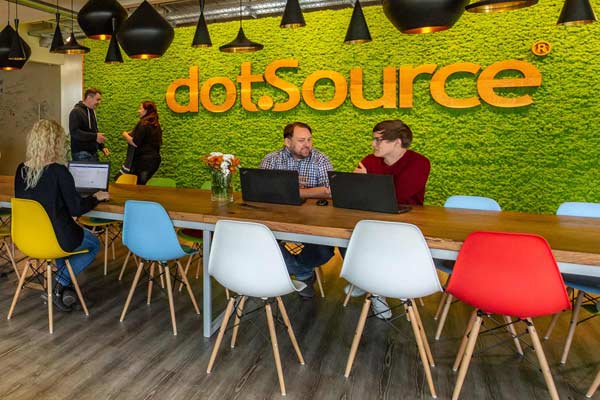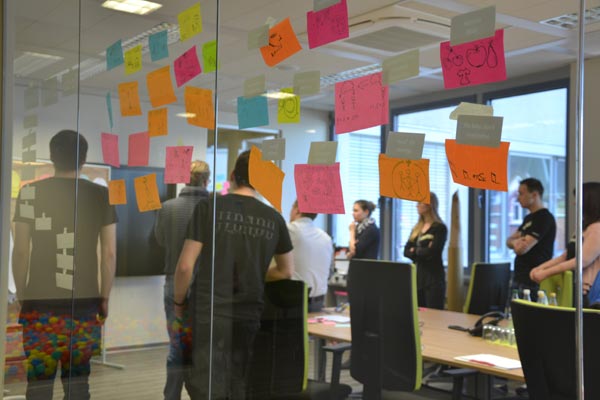 Find Out More about dotSource, Our Teams and Our Corporate Philosophy