Take Advantage of Targeted Customer Care Within Your Entire Company
Salesforce is a cloud-based solution for successful customer relationship management.
It pools all information concerning customers and prospects in one central place, so marketing, sales and customer service staff can access up-to-date and reliable data at any time, gain a better understanding of their contacts' demands and address them through targeted campaigns.
Your Advantages with Salesforce
improved lead generation and customer relationship
Optimization in customer service
Automation of routine tasks in marketing, sales and service
sales increase


As a Salesforce Consulting Partner, we support you in the implementation of Salesforce and the seamless integration into your existing IT infrastructure. We train your employees in handling Salesforce and conduct fully automated social media and email marketing campaigns together with you.
Our Salesforce Experts Will Support you in all Areas of Customer Interaction
The cloud-based Salesforce CRM platform offers different solutions for sales, marketing and service:
Sales cloud for efficient contact management:
Keep track of your leads from the very first contact, manage your pipeline, create sales forecasts and increase your sales team's performance through your CRM system.
Service cloud for outstanding customer service:
Respond to your customers even better and more quickly, and offer flexible, personalised support without losing time. Further advantages: predictive analytics, tracking of cases across multiple channels and integration of your call centre.
Marketing cloud for personalised cross-channel campaigns:
Provide your contacts with suitable content across channels at all stages of their customer journey, increase awareness of your brand on all channels and optimise lead generation via mail, on mobile devices and in social networks.
Community cloud for more networking and collaboration:
Create portals and online communities that allow your customers, partners and employees to collaborate irrespective of their location and to access all required information.
As a cloud-based software as a service solution, Salesforce offers decisive benefits:
Low installation costs
No software maintenance
Employees can access up-to-date customer information anywhere, at any time, through any device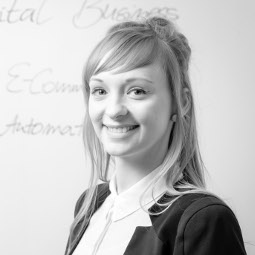 Want to learn more? I'm looking forward to hearing from you!
Sabrina Pfeifer
Account Executive
Digital Business
Enhance Your Customer Relationships with Salesforce!