What Is Salesforce Datorama?
Marketing activities take place on various channels, generating large amounts of data from many different sources. Collecting and analysing this data is a lengthy and cumbersome process. However, it is necessary in order to understand how campaigns are performing on the channels used.
Salesforce Datorama uses a highly configurable data model to help you present all the relevant information in well-structured reports. This allows you to optimise your campaign planning and implementation in order to make the most of all your marketing platforms.
Our Holistic Approach Makes You a Data-Driven Marketing Professional
We integrate and analyse your data from many different sources using the business intelligence tool Datorama
dotSource Supports You Before, During and After the Implementation of Datorama
Before the Implementation
We analyse the different data sources for you
We help you evaluate the individual systems
We support you in gathering all the necessary information
During the Implementation
We assist you in implementing various workflows
We advise you on all matters relating to Datorama and strengthen your knowledge as a digital champion
After the Implementation
We further develop your skills and your system through continuous support
This Is Why dotSource Is the Right Partner at Your Side
Trusting Partnership: As an official Salesforce Partner, we have extensive Salesforce Marketing Cloud expertise and can effectively advise you on all Salesforce products
Long-Standing Solution Knowledge: Our 50 specialists have in-depth marketing know-how and bring many years of Salesforce and business intelligence experience to the table
Data Experts: In terms of data science and business intelligence, we have got you covered – we are happy to help you set up and configure Datorama and hold training courses in using the system
Professional KPI Analysis: With our background knowledge of individual marketing channels, we show you how to interpret and compile their KPIs
Multi-Cloud Expertise: Our expertise is not limited to Datorama – as multi-cloud experts, we also assist you in creating an integrated platform using the Salesforce solutions for marketing, sales and service
Training Courses: When it comes to working with Datorama, we support your employees all along the way and provide you with the knowledge you need to make data expertise an integral part of your business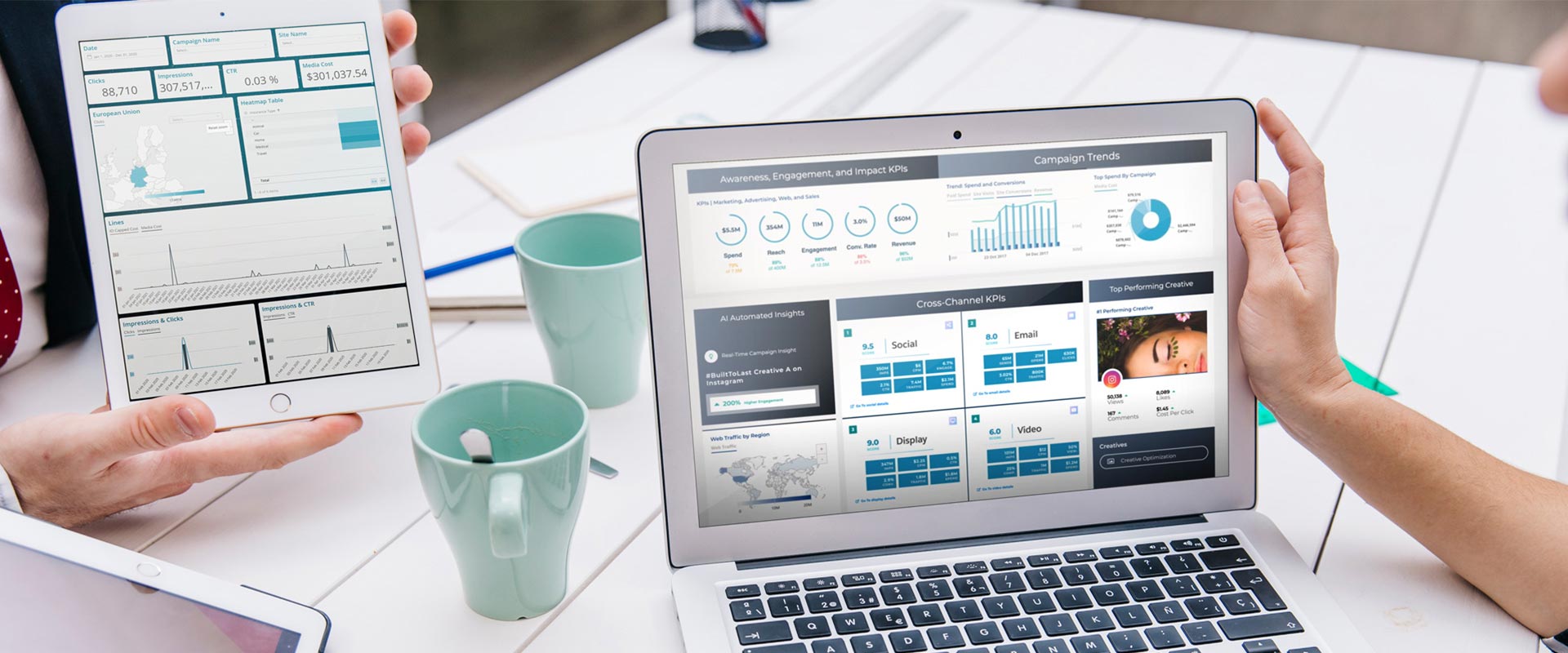 AI as a Strong Supporter: Datorama's AI gives you new insights into campaigns, automatically connects and organises data sources in a matter of minutes and makes data-driven decisions for you
Real-Time Dashboards: Thanks to clear user interfaces, you always have your goals, trends and insights at hand
Cross-Channel Marketing Insights: The Datorama Marketplace gives you access to free apps such as Facebook, Instagram and Google Ads and provides you with an overview of the impressions, clicks, visits and conversions of the various channels
Drawing Comparisons: In just one view, you can compare the performance of all channels and campaigns and look at more in-depth details
Connecting and Analysing Data: With the help of your marketing analytics, you can not only increase your ROI and act faster, but also boost your company's growth
Everything at a Glance: Using Datorama's marketing intelligence capabilities, you can keep track of e-mail campaigns, online advertising and much more – all on one dashboard
How Datorama Supports You in Data-Driven Business
The cloud-based marketing intelligence platform provides an overview of all marketing channels and makes it possible to assess their performance
With Datorama, up-to-date reports can be created without having to request them several weeks in advance
The business intelligence tool shows the performance of individual campaigns across all channels
Using Datorama, the unified view of tracking data is never lost
FAQ – Frequently Asked Questions About Datorama
01
What Is Datorama?
Datorama is a cloud-based business intelligence tool from Salesforce.
02
How Does Datorama Provide Support?
With Datorama, you can link, harmonise, visualise and analyse your marketing data to optimise the performance of your campaigns, view real-time statistics and take action.
03
What Are the Benefits of Using Datorama?
The business intelligence platform Datorama, developed by marketers for marketers, stands out due to the simple integration of various data sets, its clear dashboards and the AI tool Einstein Marketing Insights. Datorama's features not only save you significant time in analysing your marketing data – users can also excel in impressive reporting and reliable decision-making.
04
How Can Data Be Integrated into Datorama?
Datorama offers several options for integrating data into its platform. The tool comes with over 300 pre-built API connectors for ad tech providers, cloud data warehouses and tracking platforms. No API? No problem! The TotalConnect connector is versatile and allows for direct file upload and SFTP, for example. There are also a number of developer-specific tools that we are happy to advise you on and explain in more detail.
We Implement Your Multi-Cloud Solution
Want to learn more? I'm looking forward to hearing from you!