Create High-Quality Content Experiences with Magnolia
Whether in the public or digital sphere: the first encounter with a brand often does not take place through its products, but rather through its content – be it website content, traditional marketing, content commerce or social media. Magnolia CMS offers outstanding technical capabilities to impress customers with content.

Revolutionise Your Content Management Strategy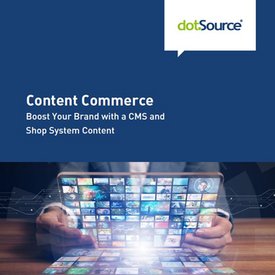 »Content Commerce« White Paper
In our publication, you can find out how to successfully merge valuable content with a seamless shopping experience.
Optimise the Digital Experience of Your Customers – Our Services as a Magnolia Partner
Development of a successful content management strategy
Comprehensive configuration – from hosting on-premises solutions to the operation of Magnolia CMS
Implementation of the system
Integration of the CMS into the existing system landscape
Training your employees in using Magnolia CMS
Implementation of a modern UX design
As a Magnolia Agency, We Are Here to Support You Before, During and After the Implementation
Before the Implementation
During the Implementation
We set up the PaaS environment together with Magnolia and configure your tool – from basic set-up and hosting on-premises solutions to the operation of Magnolia CMS
We implement templates as well as Magnolia applications and customise them together
We train your employees in using Magnolia CMS
We provide in-depth advice on quality assurance and support you with content creation and management
After the Implementation
We improve your SEO tracking
We constantly develop your system further
Overview of Magnolia's Key Features
Intuitive User Interface:

The convenient user interface allows you to create, edit and publish content easily and quickly.

Flexibility and Scalability:

Magnolia CMS can be adapted to your specific requirements and grow with your business needs.

Personalisation:

Using Magnolia CMS, you can create personalised customer experiences and tailor your content based on factors such as customer behaviour and interests.
Multi-Language Support:

Magnolia CMS supports various languages and can easily be used by companies that operate worldwide.

Security:

Thanks to strong security features, the confidentiality and integrity of your data is guaranteed.

Integration:

Other systems such as CRM solutions, marketing automation tools and e-commerce software can be seamlessly integrated.
FAQ – Frequently Asked Questions About Magnolia CMS
01
What is Magnolia CMS?
Magnolia CMS is a Java-based, powerful, flexible and easy-to-use headless CMS for companies of all sizes. It offers a wide range of features for creating, managing and publishing digital content for websites and mobile applications.
02
How does Magnolia CMS work?
The back end of Magnolia CMS is controlled via applications that are responsible for different features. For editors, this provides clear and simple structures for content management. A significant advantage here is that the editing workflow can remain the same, regardless of whether a traditional architecture or headless approach is used. Content is created using a WYSIWYG (»What you see is what you get«) editor.
03
What are the benefits of Magnolia CMS?
The powerful digital experience platform is beneficial for companies of all sizes and from all industries.
Some of the benefits are as follows:
Single Access Point:

Magnolia makes all data sources from your systems available on a single user interface.

Integration with Third-Party Systems:

The CMS can be seamlessly integrated with other systems, tools and data sources via microservices.

Reusable Content:

All types of content, whether images, videos or entire campaigns, are stored in a hub and can be reused.

Customer Journey Tracking:

By defining your target audience, you can create a unique and personalised customer journey.

Data-Driven Decision-Making:

Dashboards are displayed directly in Magnolia CMS, allowing you to easily track the performance of your products and campaigns.
A Selection of Our Clients That Are Already Successful with Magnolia
Want to learn more? I'm looking forward to your questions!