No Smart Decision-Making Without Business Intelligence
Analysing existing data is a key factor for the successful strategic orientation of companies. However, companies often face the following problems:
Data is stored in the respective departments, so cross-team access is difficult
Reporting requires a lot of manual effort and is often done on an Excel basis
Sharing reports within the company is very cumbersome
Some departments build their own data sets, which leads to different values for one and the same KPI (e.g. sales figures from Google Analytics vs shop system vs ERP)
Data is usually analysed in the source systems, which means that there is no reference to data from other systems
Departments do not always have the technical know-how to analyse data properly
Modern BI systems can help!

What Modern Business Intelligence Systems Are Capable Of
Today, the advantages offered by BI systems go far beyond the mere consolidation, analysis and visualisation of data. New features are constantly being developed, enabling companies to make well-founded decisions even faster, for example:
Real-Time Analysis: Thanks to the seamless connection of your source systems, you always have access to the latest data
Usability: An intuitive user interface even enables employees without any technical know-how to access data and create reports on their own
Integrated Data: Data from different sources is brought together and can thus be viewed in an integrated way
NLP & NLG: Natural language processing and generation enable voice-controlled data queries as well as voice-based data output
Integrated Analytics Features: BI tools already have some built-in analytics features that are easy to use
Automation of Processes & Reporting: Thanks to the automated provision of data, manual effort can be minimised
User-Friendly Visualisations: Complex issues or large amounts of data are presented in an easy to digest manner
Ad-Hoc Meetings: Interactive discussions based on your real data are also possible without ready-made presentations
Data Democratisation: Employees from various departments and hierarchical levels can access data on their own and use it for reporting purposes
Forecasting: Modern BI tools are capable of modelling future developments
83
%
of CEOs want a data-driven organisation.
25
%
of executives worldwide use business intelligence as well as visualisation tools for strategic decisions.
30
%
growth per year – on average – is achieved by companies relying on data-driven insights.
Benefit from Our Integral Approach
We ensure cross-campaign consolidation and analysis of your data so that nothing stands in the way of your data-driven marketing
Our cloud services team will be happy to help you set up, manage and support your Azure infrastructure
If desired, we can adapt your reports and dashboards to your company's corporate design
KWS Success Story – How KWS Makes Data-Driven Decisions Using Business Intelligence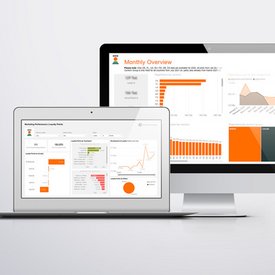 »Becoming a Data-Driven Business with Microsoft Power BI​« Success Story
We show you how KWS is able to make data-driven decisions using Microsoft Power BI.
Do you want to learn more? I'm looking forward to hearing from you!