Why Your Salesforce Project is in the Right Hands with Us
Multi-cloud expertise: we have extensive knowledge of the different Salesforce solutions in commerce, marketing, sales, and service.
Close partnership: as an official Salesforce partner, we are in regular contact with the software provider. A fair partnership guarantees trusting cooperation and transparent processes.
Enthusiasm: our certified Salesforce admins, Commerce Cloud developers, Marketing, Sales and Service Cloud consultants as well as e-mail and social specialists are looking forward to your project.

Do You Want To Get Started in E-Commerce As Quickly As Possible?
Take a look at the Salesforce Quick Start Commerce Solutions!


You Have All Processes in View with the Cloud Solutions for Commerce, Marketing, Sales, and Services
Salesforce is a leading provider of cloud-based solutions for customer relationship management (CRM), marketing, customer service, commerce, application development, and analytics.
With the Salesforce platform, you can pool all the information about your leads and customers in one central place so that employees from marketing, sales, and customer service can always access up-to-date and reliable data, gain a better understanding of their contacts' needs, and target them with personalised campaigns.
Salesforce's Software-as-a-Service approach (SaaS) offers you the following benefits:
Low set-up costs
No software maintenance
High reliability
Constant development of performance and features
Mobile application: your employees have access to up-to-date customer information anytime, anywhere
The Salesforce platform "AppExchange" also offers a variety of internally and externally developed extensions
As an official Salesforce Partner we will support you in the strategic conception, the implementation of Salesforce solutions, and the seamless integration into your existing IT infrastructure.
We will train your employees in dealing with Salesforce and – together with you – carry out fully automated marketing campaigns, for example in the field of social media and e-mail marketing.
Moreover, our team is available for further development and support and will help you migrate from Salesforce Classic to Lightning.
Design Your Individual Customer Success Platform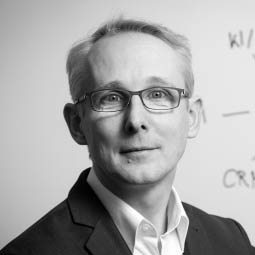 Want to learn more? I'm looking forward to hearing from you!
Thomas Böhme