Teams is part of Microsoft's Office 365 platform and ensures comprehensive virtual communication and collaboration in your company. Not only does Microsoft Teams allow for chats and video conferences, but it also combines the functionalities of numerous Office 365 applications in order to promote efficient collaboration.
As a Microsoft partner, we support you in implementing Microsoft Teams, training your employees, partners and clients as well as in creating and implementing guidelines.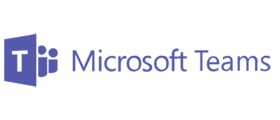 Microsoft Teams – Working Productively and Efficiently Even from Home
Due to the current curfews, more and more companies see themselves forced to rely on remote work for the most part. Even though this may not sound too difficult at first, the reality is often different: How do you ensure that employees keep working together effectively even though they are not in the same office?
Besides the appropriate hardware that is necessary to be able to work from home and to be available at all times, effective tools and guidelines that facilitate collaboration are required.
Microsoft Teams offers several tools and functions that make it easier for your employees to collaborate when working from home and make collaboration more efficient. In addition to being able to hold online meetings and reach colleagues via chat, files can also be shared and edited in real time.
Holding audio, video and web conferences
Communication in individual or group chats
Video conferences optimised for all devices
Possibility of recording conferences to make them available to absent participants afterwards
Integration with other Microsoft tools and services
Accessing, sharing and editing files in Word, PowerPoint and Excel in real time
Collaboration features for interactive meetings (e.g. via the Microsoft Whiteboard app)
Our Services as a Microsoft Partner
In order to also ensure effective virtual collaboration, the right tool and in particular the right strategy are required. Collaboration can be as effective and productive online as it was offline. To achieve this, however, technical requirements have to be met on the one hand, and on the other hand, employees have to be professionally instructed and guidelines for using the system have to be established.
As a Microsoft partner, we develop an individual strategy together with you to implement Microsoft Teams in your company.
We Support You In
planning and creating a concept for your virtual collaboration
technically implementing Microsoft Teams within your company
connecting it to third-party systems
onboarding/training your employees, clients and partners
creating guidelines for effective remote work in your company
An Overview of Our Remote Business Services
Want to learn more? I'm looking forward to hearing from you!