Emarsys is a global leader in the field of cloud marketing software. As a comprehensive and fully integrated solution, the commerce marketing platform meets the requirements of modern marketers. The combination of predictive analytics, personalisation and omnichannel automation enables companies to increase customer engagement in next to no time.
The marketing automation platform helps companies run personalised and effective marketing campaigns. It comes with various features, including e-mail marketing, mobile marketing, social media marketing, web personalisation and analytics tools.
Founded in Vienna in 2000, Emarsys is one of the fastest and most innovative companies in the industry.
With over 800 employees at 13 locations, Emarsys helps more than 1,500 companies in 140 countries to increase their revenue and return on investment. Emarsys has been part of SAP since October 2020.
Key Features of Emarsys at a Glance
Personalisation: 1:1 customer interaction across all channels and devices
Omnichannel Automation: Your customers choose their favourite channel
Prediction and AI: Send time optimisation, recommendations and guidance for next steps thanks to self-learning tools
Analytics: Identify strong campaigns and plan resources accordingly
Smart Insights: Data is converted into actionable intelligence
Benefits of SAP's Customer Engagement Platform
Analytics and Reporting
The solution provides extensive analytics and reporting capabilities, ensuring that you can always track and optimise the results of your marketing campaigns.
Real-Time Tracking
With Emarsys, you can track your customers' behaviour in real time and automatically send personalised marketing messages as a result.
Automation
The SAP platform supports you in automating your marketing processes – from the creation of campaigns and the analysis of results to reporting. This saves you time and resources and lets you focus on other important tasks.
Multi-Channel Marketing
The tool allows you to reach your customers through different channels such as e-mail, SMS, social media and websites. This way, you can increase your reach and strengthen customer loyalty.
Personalised Campaigns
Emarsys uses machine learning and artificial intelligence to create personalised campaigns based on customers' individual interests, preferences and behaviour. This makes it possible to attract more customers and boost revenue.
A Comparison of Marketing Automation Systems
Find out in our white paper how Emarsys performs compared to other marketing automation systems.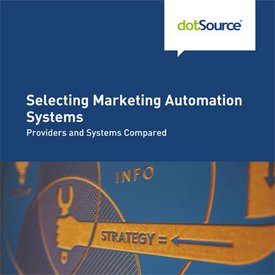 Why Your Emarsys Project Is in the Right Hands with Us
We keep an eye on the entire digital experience: dotSource is not only a certified Emarsys partner, but also a long-standing SAP partner with extensive experience regarding the SAP Customer Engagement portfolio, including SAP Commerce.
This allows us not only to ensure seamless data exchange between the systems, but also to provide you with holistic advice on a successful customer experience – for maximum synergies between e-commerce and marketing automation.
Furthermore, the comprehensive knowledge of our multi-cloud experts gives you an enormous advantage when it comes to integrating other SAP CX solutions, such as SAP Sales Cloud or SAP Service Cloud.

As an Official Emarsys Partner, We Take Over
the development of a successful digital marketing strategy
the entire system configuration – from basic set-up to operation
the planning and implementation of automated marketing campaigns with Emarsys
the configuration of trigger-based marketing processes
the training of your employees in using the system
Following the acquisition of Emarsys by SAP, which took place in October 2020, the marketing automation platform will replace SAP Marketing Cloud in 2026.
We are happy to advise you on how to make the migration a success.
FAQ – Frequently Asked Questions About SAP Emarsys
01
What are the particular strengths of Emarsys?
Functionality:

Emarsys is an integrated platform covering multiple channels such as e-mail, SMS, social media and websites.

Target Group Segmentation:

The SAP solution uses machine learning and artificial intelligence to create customer profiles and personalised campaigns.

Integration:

Emarsys is also compatible with other CRM systems and e-commerce platforms.

Scalability:

Emarsys is particularly suitable for small and medium-sized companies.
02
How do you find out which e-mail marketing system suits you and your requirements?
Current State and Definition of Goals:

Identify your medium- and long-term marketing goals and outline the necessary measures to achieve them.

Market and Service Overview:

Analyse the market and your biggest competitors. How do you compare to the competition? What systems do your competitors use?

Matching and System Selection:

Take a look at all the different solution providers. Is an entry-level system sufficient or do you need an enterprise solution to meet all your requirements?
These Are Some of the Companies That Trust Our Marketing Automation and E-Mail Marketing Services
We Provide You with All Solutions from the SAP Customer Experience Suite
Want to learn more? I'm looking forward to hearing from you!