Why Developing an E-Commerce Strategy Is Worth It
Effective Customer Approach
How and where you approach your customers is highly relevant. There are two things to keep in mind: the competition for access and the competition for purchasing decisions.
Regular Market Analysis
Trends are of crucial importance. Any good e-commerce strategy should therefore take into account innovations that are rapidly gaining in popularity.
Optimised Customer Retention
No matter the industry – the competitive pressure is high. Customers can therefore be quick to reach for changing offers. An e-commerce strategy can positively influence this customer behaviour in your favour.
Data-Driven Marketing
With a data-driven strategy, you can perfectly tailor your website and your offers to the needs of your customers. Other benefits include reduced costs, easier implementation, higher scalability and much more.
Integrative Strategies in E-Business – Withstanding Change
E-business is subject to constant change. E-commerce strategies are what make a company or an online shop competitive in the first place.
Anyone who wants to operate a lucrative business model in digital commerce today must be fast and flexible. Adapting to changing customer expectations and new purchasing behaviour is elementary.
Technical resources play a key role in professional e-commerce strategies.
Today's customers are mostly online via mobile devices. Even in the B2B sector, customer expectations are increasingly changing as a result of private shopping experiences.
Companies active in e-commerce should therefore keep an eye on all success factors offered by innovative technologies.
These success factors include:
Content management by a CMS agency
Usability, user experience (UX) and design by a UX agency
Customer centricity
E-Commerce Systems from A to Z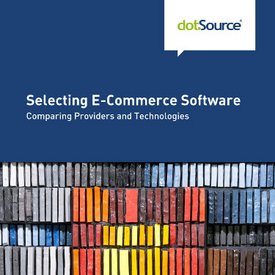 A crucial aspect of any e-commerce strategy is the use of a system that suits your business.
Download the »Selecting E-Commerce Software« white paper for free – all it takes is one click. You will receive concrete recommendations for choosing the right shop system.
E-Commerce Consulting with a Clear Concept – From Strategy to Marketing
A profitable e-commerce strategy is primarily characterised by three things:
Recognising opportunities and potential early on
Benefitting from innovations
Achieving long-term success
This requires a comprehensive concept that links the e-business model, IT, sales, networking and marketing and combines them into a coherent strategy.
E-commerce concepts call for a holistic approach that makes profitable use of all the opportunities offered by digitalisation.
However, being equipped with new digital technologies is not enough. It rather takes the right interplay of technology, innovation and marketing in e-commerce.
A professional e-commerce strategy (including e-commerce consulting) is therefore crucial in order to gain and sustain competitive advantages.
Success in e-commerce is always based on several factors. One of them, for example, is customer loyalty. It involves several levels and integrates different departments. Loyalty management creates exclusive customer experiences in this context.
A good e-commerce strategy takes into account all the different success factors in their full complexity and identifies concrete opportunities for optimisation.

Personas and Customer Journey as the Basis for Your E-Commerce Strategy
The basis for success in digital commerce is always customer orientation. One focus of marketing concepts is therefore on the definition of e-business buyer personas. These characterise your target audience based on certain characteristics and user behaviour.
An e-business strategy using personas is an effective method for putting yourself in the position of potential users and reflecting this perspective in every phase of digitalisation – from pre-purchase consulting, development services and IT infrastructure to design.
With the help of the defined personas, the customer journey can finally be mapped across all digital and physical touchpoints.
What is special about this strategy is that you can easily and directly recognise which phases your customers go through – and using relevant data, you can also determine which criteria influence customer behaviour.
We would be happy to support you in creating your buyer personas. Do not hesitate to contact us!


Professional E-Commerce Consulting: Lasting Business Success with the dotSource Innovation Process
Brands, retailers and manufacturers need innovative solutions to keep up with the fast pace of the digitalised economy and political changes. With flexible work organisation, you create short communication channels and fast feedback loops to enable rapid decision-making.
In e-commerce, it does not make sense to rely on a project plan that includes an exact cost calculation and does not allow for any deviation. This prevents you from being able to spontaneously respond to change, new trends or altered user behaviour.
Our experience shows that companies that break away from the idea of a firmly defined goal at the beginning of a project and choose an iterative approach pave the way for a genuine innovation process. This way, you bring innovative services to the market in short intervals. The work on a successful solution does not stagnate. And: you are no longer stuck with a perfectly but rigidly formed platform for years, which will no longer be state of the art by the time it is released.
The innovation process is not the shortest way to a finished project. However, it does enable continuous optimisation and a quick response time to changing market conditions and customer expectations. True to the slogan »Fail fast to succeed sooner«, this agile project approach does not necessarily promise lower costs, but certainly lasting business success.
The process essentially consists of three steps:
In a first step, we analyse your pain points and challenges. This includes:
Weaknesses and strengths of the existing solution
Requirements and expectations of your users
Status quo and goals of your company
Market environment and potential
From the first phase, we provide you with recommendations for action and help you implement them. Personas, interviews, research and studies are a popular basis for the first phase. Your customers and their expectations are the focus of our analysis.
The next step is to find a solution. Based on the previously identified needs, we develop an initial prototype. Our teams of experts specialising in e-commerce, UX design, digital strategy and data-driven business work across disciplines so that valuable knowledge from different fields can be incorporated.
In the next step, we test the solution according to the MVP (minimum viable product) approach. If the result does not lead to the desired success, the team has the option to go back one step. This can mean revising the prototype or redefining the pain points. Successful MVPs can be further developed and scaled.
E-Commerce Strategy and Consulting
An e-commerce strategy is the basis for long-term corporate growth in digital commerce. For a coherent, scalable and successful strategy, you should involve all departments in your planning.
It makes sense for every company to rely on professional support. After all, the dynamics of e-commerce make it essential to recognise opportunities and take advantage of them as early as possible. This creates competitive advantages that increase the profitability of your business model.
Our E-Commerce Services
Before the Implementation
Identifying potential for improvement
Development of an optimal customer journey
System selection consulting
Coordination of internal and external processes
Taking into account other systems such as PIM, MDM, DAM, CMS and CRM solutions
During and After the Implementation
Strengthening competitiveness and innovation
Creation of digital customer experiences that ensure a unique user experience
Optimisation of the shop system for higher conversions
Enhanced customer loyalty and higher repurchase rates
Training of employees
Monitoring success after going live
Microservices as a System Architecture
There are various approaches to building a system architecture. One option is microservices, which promote agile processes and are easily scalable as well as flexible. We show who microservices are suitable for, highlight the benefits and outline what a system architecture can look like.
Other E-Commerce Services at a Glance
A Selection of Our Clients We Have Advised on Their E-Commerce Strategy
Do you want to learn more? I'm looking forward to hearing from you!