Your Customer Is the Focus of Our E-Commerce Concept
In our e-commerce concept, we summarise all the information we have collected together with you in the strategy workshop in a structured way. Based on a detailed SWOT analysis, we derive concrete recommendations for action for your planned e-commerce project.
For your company's processes, products and services to be successful in the long term, we do not only rely on technical features and functions, but also focus on customers and their expectations.
E-Business Personas
For this reason, we use so-called e-business personas to enhance the customer journey. These are exemplary user types that describe persons of your target group in terms of certain characteristics and user behaviour.
From consulting, development services and IT infrastructure to design: e-business personas are an effective method to put oneself in the position of potential users and to reflect on this perspective in every stage of digitalisation.
Customer Journey
Using the defined personas, the customer journey can be mapped across all digital and physical touchpoints. This makes it easier to visualise the stages customers go through – from inspiration to research to purchase. Afterwards, we will hold a workshop to compare the wishes and goals of your customers with their actual experiences.
E-Commerce Trends
For your project to be implemented competitively, we take into account current trends in e-commerce when developing the concept. With more than 14 years of experience in e-commerce, we can assess which developments and technologies are suitable for your project in the long term.
dotSource Innovation Process


The consulting process we follow to support you in developing an e-commerce strategy consists of three main stages: discovering, creating and testing. After you come to us with a challenge or a problem to be solved, an initial appointment is arranged. During this appointment, the main problems and advantages of this challenge are identified, the status quo of the company is defined and the environment is analysed. Based on the information received, we will give you concrete recommendations for action.
Furthermore, we support you in selecting the right system. We develop and plan the project according to your specific needs and the type of services commissioned: development, IT infrastructure, UX design, etc. This results in a protoype, i.e. a first attempt at what is to be achieved. The prototype's performance will be evaluated. Depending on the results, either improvements are recommended or the next stage is initiated.
Afterwards, the most important success variables of the project are tested by means of an MVP (Minimum Viable Product): positioning and digital marketing, maintenance and operation as well as the optimisation and monitoring systems. If everything goes according to plan, the MVP can be scaled further until the goal is reached.
E-Commerce Is Only One Part of Digital Transformation
Although online shops are the cornerstones of an e-commerce strategy, other systems may have a similar importance. Besides focusing on online shops, we also offer preliminary strategic considerations in the fields of CRM, marketing automation, PIM and MDM, CMS and data-driven business.
Regardless of whether you want to replace an existing system or integrate a new one, we help you optimise your current system landscape.
CRM and Marketing Automation Systems
The quality of your customer relationships determines the success of your company. Together with you and the right customer relationship management (CRM) system, we therefore integrate customer focus as an inherent part of your marketing, sales and service processes in order to systematically maintain, expand and digitally design customer relationships.
PIM, MDM and DAM Systems
Product information management (PIM) and master data management (MDM) are responsible for complete, high-quality product data that is tailored to your customers for each output channel. A DAM system helps to centralise, process and distribute content, including images, videos and texts. These systems also require careful strategic preparation with regard to added values and integration possibilities into the existing system landscape.
Content Management System (CMS)
An online shop has long been more than just a price and availability display: by means of a content management system (e.g. TYPO3, Magnolia, FirstSpirit, eZ Publish), you enter data, analyse user behaviour and finally optimise the content you display – not only via a traditional website, but also via smartphones, tablets, PWAs or social media. In this context, we take into account the most recent software architecture concepts (e.g. headless CMS) and trends over the course of the preliminary strategic stage.
The most important question during this stage is to what extent the CMS is supposed to take over the functions of an existing shop system. As an experienced shop system partner, we help you to master all these challenges and make the right decision.
The E-Commerce Strategies of Today and Tomorrow
Download the »Selecting E-Commerce Software« white paper now!
Let Our Experts Create Your Online Shop Concept and Get the Following Results
We identify the potential for improvement of your current online presence
We develop scenarios for a perfect customer journey
We tailor all of your company's internal and external processes to your e-commerce strategy
We develop your e-commerce concept in the form of workshops, i.e. you can actively influence each stage
We make your e-commerce project competitive and up-to-date
We develop an online shop for you that increases conversions, offers your customers a unique user experience and invites them to make another purchase
We offer comprehensive success monitoring after launching your online platform
Other E-Commerce Services at a Glance
A Selection of Our Clients That We Have Advised on Their Digital Strategy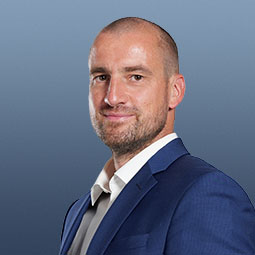 Do you want to learn more? I'm looking forward to hearing from you!
Steffen Schneider
Digital Business