Veritas
VERITAS Verlags- und Handelsges.m.b.H & Co.OG, based in Linz, is the largest Austrian schoolbook publisher and part of the German-based Franz Cornelsen Bildungsgruppe. VERITAS commissioned dotSource GmbH with the re-launch of veritas.at.


project tasks, objectives and implementation
To make greater use of growth potential and to expand the service, VERITAS commissioned dotSource GmbH with the relaunch of veritas.at. The goal was to conceive and implement a customer-friendly publisher's website with a new corporate design. Furthermore, the product and service presentations were to be adapted to the relevant target groups.
As a flexible state-of-the-art online shop framework, Magento Enterprise forms the basis for a contemporary and user-friendly platform which is oriented to the needs of the customer groups.
The implementation of a range of online materials generated a high added value for VERITAS which can contribute to the monetisation of the business model. The creation of the "My Veritas" customer area gives VERITAS the opportunity to provide personalised content, such as the recommendation of events, online materials or suitable products, thus making a positive contribution to increasing the cross-selling rate.
In the front-end, dotSource was able to contribute to improved usability by implementing a clearly defined screen design with manageable navigation and a more accessible search function with Apache Solr.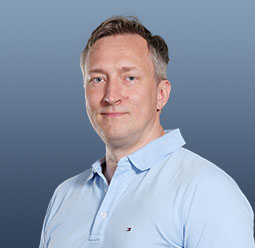 Want to learn more? I'm looking forward to hearing from you!
Marcus Wagner
Account Executive
Digital Business