Successful in Digital Business with the Right Migration Strategy – What You Can Expect from the White Paper
IT is just like real life: There is always something that needs to be optimised. The couch is sagging, the flat is actually far too small for the family. The e-commerce system is outdated, and soon there will even be security gaps. In real life, a move can help; in digital business, migrations are an option.
Migrations are usually more than a version change, an update. Migrations offer the opportunity to improve processes and enhance features. In our white paper, we take an in-depth look at the reasons for migrations and show ways to master them successfully. In any case, migration is a topic that no company can avoid.
Let us look at an example: What happens when providers innovate and stop supporting old systems? After a system is no longer supported, security gaps arise. These gaps must be prevented in order to protect valuable customer and corporate data. The performance of existing systems often suffers when they reach their limits. Users have long been demanding new functionalities, but the existing system cannot meet these requirements.
In our white paper, we show you how migrations can succeed – from consulting, requirements elicitation, IT architecture as well as feature planning to actual data exchange and a long-term digital business strategy.
The white paper provides background knowledge and highlights the opportunities of intelligently planned and professionally executed migration projects. It provides answers to the following questions:
What are the reasons for migration and how do you know when the time is right?
What are the options when migrating systems?
What order should the actual data exchange be carried out in?
What measures need to be taken to support migrations of a particular system?
How can you reduce efforts and costs in the long term by planning intelligently?
Migration in E-Business: Topic Overview
Reasons for a System Migration
Four Options for Migrations
Migration as an Opportunity for an Excellent Experience
Excursus: Technology Trends
MACH Instead of Monolith

Mobile Only Instead of Desktop First
Real Experience Instead of Pure Information
Consent Instead of Cookies

Rethinking Features – Tips from Experts
Step by Step: Successfully Migrating Data in Eight Steps

Scheduling the Migration
Defining Smart Goals
Sorting Existing Data
Mapping Data That Is to Be Migrated
Carrying Out the Data Exchange
Testing the New Version
Fixing Bugs
Going Live
Ten Mistakes When Migrating E-Business Software and How to Avoid Them

1. Leaving Expertise to Others
2. Forgoing External Expertise
3. Not Questioning Processes
4. Not Involving the IT Department Enough
5. Not Involving Users
6. Choosing a Bad Time
7. Not Planning Parallel Operation
8. Not Mapping Data
9. Estimating Efforts Too Tightly
10. Replicating Twisted Processes

Best Practices: Successful Migration Projects in Various Industries

C.H.BECK
hessnatur
ESPRIT
bofrost*

Conclusion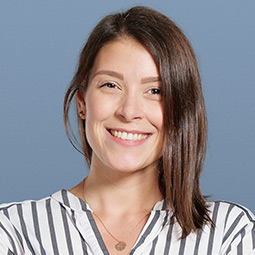 Do you want to learn more? I'm looking forward to hearing from you!
Nadine Kannengießer
Digital Business