The Energy Industry Benefits from Big Data and Intelligent Solutions
The energy industry is data-driven per se: the quantities of electricity and gas produced are measured precisely, energy prices are traded on energy exchanges and consumers can check their energy supplies to several decimal places.
In recent years, the energy transition has not only changed the sources from which energy is procured. The decisions have also enormously accelerated the digital transformation of the energy industry and increased the pressure on the industry to innovate.
What this means for energy companies is that more and more energy suppliers need to have digitalisation strategies in place in order to be able to hold their own with their business model: it is about optimising and automating processes, both internally and externally.
Those who meet increasing customer requirements have a competitive advantage: energy suppliers, for example, offer online service portals these days that make it easy for customers to interact with them.
Besides modern sales channels, the digitalisation of the energy industry is also about smart demand calculations, efficient forecasts, intelligent maintenance and the networking of many different areas and technical devices (keyword: IoT).
In other words: the energy industry is a data-driven industry per se, which not only has to be at the cutting edge, but also future-oriented. As it is part of the critical infrastructure that society as a whole depends on, IT security and compliance are also important issues that require constant cooperation with specialists.
Pioneering Digital Solutions for the Energy Industry
Innovative Trading Platforms for Information and Services
The energy trade itself, information services related to energy trading, but also the procurement of energy by consumers can be digitally mapped on platforms. Therefore, the energy industry is also a market for e-commerce, just like the fashion industry or the e-commerce of industrial companies. In the energy industry, performance, user-friendliness and 24/7 availability are important parameters for successful e-commerce as well..
We support you in building a future-proof e-commerce platform that meets your individual requirements and drives your e-business forward.
Perfectly Digitalising Sales & Service Processes
Customer interaction is increasingly becoming a success factor in the energy industry as well. Innovative self-services in particular are gaining importance in this industry: a rate configurator, proactive maintenance options or smart tools such as chatbots help to stand out from the competition.
However, CRM and service solutions also support sales and service employees in internal processes, for example through automated quotation preparation or a personal customer approach.
As an experienced digital agency, dotSource ensures a future-oriented realignment of your digital sales and service processes – from evaluation and system selection to the implementation of a customised CRM or service solution.
Strengthening the Company with Data-Driven Decisions
In the energy industry, data is available in abundance: rainfall amounts, weather forecasts, power plant performance, consumer statistics – just to name a few. For companies in the energy industry, it is important to link all this data with the right solutions and to draw intelligent conclusions from it – presented in dashboards. This applies to both internal and customer-relevant data.
The data scientists at dotSource accompany you on your way to a data-driven corporate future – from the evaluation of the existing data strategy and the development of an innovative one to the implementation of suitable systems as well as training and expertise in data analysis.
Intelligent Networking of the Internet of Things
Measuring devices, input devices, monitoring devices: the Internet of Things (IoT) has already become part of everyday life in many areas of and professions in the energy industry. This allows companies to operate more efficiently and more intelligently, maintenance efforts at particularly remote or hazardous power generation sites can be reduced and a wide range of processes can be improved. Customers also benefit from innovative IoT applications, for example through intelligent apps for device control, self-service offers or proactive maintenance options.
The experienced software architects at dotSource help you to link the corresponding systems. In addition, our data-driven business specialists support you in linking the data collected via IoT devices and deriving an optimal data strategy from it.
IT Security for the Energy Industry's Critical Infrastructure
Security plays an important role in all areas, but it is particularly crucial when it comes to aspects of the critical infrastructure. While energy supply is becoming increasingly intelligent and networked, it is also necessary to take data protection issues into account at an early stage when making use of data.
It is therefore not only pure data security that is relevant to the energy industry; future-oriented cyber security strategies and an efficient early warning system are required as well.
We support you and your energy company in taking security aspects into account when selecting systems and implementing them in a future-oriented manner.
Fresh Brand Experience Design for an Excellent Brand Presence
Innovative idea for a start-up with close ties to the energy industry? Foundation of a subsidiary? Relaunch of a corporate identity? A brand presence must also be well curated in the energy industry and highlight the USPs of a company: Does the brand stand for sustainably produced green electricity? For innovative trading with information services relevant to energy exchanges? Brand experience design is of major importance for brand perception, and this perception partly determines the success of a company.
As an experienced user experience design agency, we create appealing corporate identities for you, design engaging websites and shape your future across all channels.
Innovative Platform for Europe's Leading Energy Exchange EEX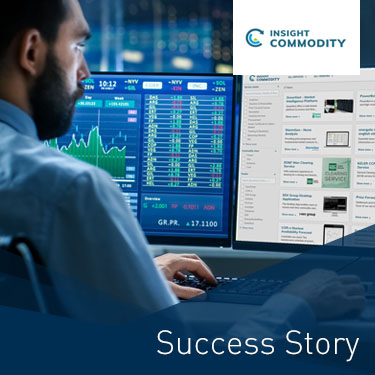 Our Services
Innovative trading platform for analytical solutions, processed raw data and the latest market news relating to trading in energy products
Requirements elicitation, configuration, implementation and testing of the platform based on Magento Open Source
Appealing brand design for the brand presence – from the logo to the screen design of the website
These Companies from the Energy Industry Already Rely on Our Expertise