Business Monitoring – Always Keeping an Eye on Critical Business Processes
In order to remain competitive in the long term, companies not only require the right systems, but they must also be able to respond flexibly to challenges. Those who manage to make their systems and the associated processes visible and to analyse them thus gain a clear competitive advantage.
Business monitoring enables you to act more proactively and identify opportunities. It collects and analyses data in real time. As a result, problems can be detected exactly when they arise. This is the only way to identify and avoid problems and errors more quickly and thus better meet customer demands.
Addressing Problems Proactively with Business Monitoring
Your Challenge
Companies face great challenges when it comes to monitoring critical business processes and quickly identifying as well as correcting errors within these processes. If problems are not identified and corrected in time, this can cause high costs or result in drops in sales.
Let us look at an example: you are an e-commerce manager and get a message from the warehouse that there are no more orders coming in. However, the responsible application is running without errors. Only after long troubleshooting, it turns out that the orders were not transmitted to the ERP system via the interface. You would have liked to have noticed this error earlier, ideally even before the orders you received went nowhere.
The Solution
Business monitoring supports you in identifying and responding to occurring errors and problems in your systems at an early stage. It can be used to answer the following questions:
Is the number of incoming orders the same as usual?
Are sales significantly lower than usual?
Is a certain interface performing more slowly than usual?
All relevant KPIs are clearly visualised in a dashboard so that you can keep an eye on your processes at all times. In addition, alarms can be triggered once certain thresholds are exceeded or not reached.
Our Services
Our experienced software development and IT experts support you in
defining the key figures to be evaluated: which processes have the highest priority and require real-time analysis?
setting up appropriate business monitoring to keep track of business-relevant metrics in real time
implementing a dashboard that presents all relevant metrics at a glance
setting up alarms that immediately inform you when certain thresholds are exceeded or not reached
A Selection of Our Clients That Already Successfully Use Business Monitoring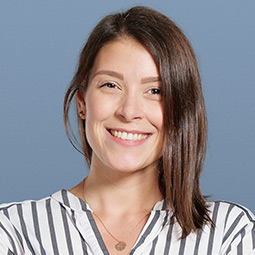 Do you want to learn more? I'm looking forward to hearing from you!
Nadine Kannengießer
Digital Business