105
%
increase in average order size when using a CPQ software.
30
%
higher quotation accuracy after implementing a CPQ solution.
80
%
faster preparation of quotations is possible after implementing a CPQ solution.
Using CPQ Software to Automate Quoting and Invoicing
Your Challenge
Your company offers complex or regionally diverse products, which means that preparing customer-specific quotations costs your sales staff a lot of time.
It is difficult to keep track of the many product configurations, their prices and product dependencies, resulting in a lack of consistency and completeness as well as poor quality of your quotations.
There are also different specifications for discounts and margins, which are stored in various systems or Excel spreadsheets and in some cases even require approval by the team leader.
Due to the time-consuming preparation, the presentation of quotations to customers is delayed. In addition, the high consumption of resources inhibits quick business deals and investments in customer retention.
Our Solution
CPQ software makes it easier for your sales team to sell customer-specific products and services that are available in a wide range of variants. Your product and pricing strategy is integrated into your CRM solution and the preparation of quotations is standardised. Based on existing customer data and restrictions regarding product compatibility, quoting, contracting and invoicing are carried out.
Discounts and restrictions are automatically taken into account and cross-selling as well as upselling opportunities are suggested.
Moreover, automatically triggered approval processes help you save valuable resources. Once quotations have been created, the software allows you to automatically create contract extension offers and matching opportunities so that you never miss out on contract extensions again.
We Support You in
seamlessly integrating a CPQ solution into your existing IT infrastructure so that you can retrieve data from other systems and pass it on to different systems
integrating the CPQ solution into your CRM system
mapping your product and pricing strategy in the CPQ solution
defining product structures and rules, specifying components and features and formulating configuration rules
creating rules for discounts and product dependencies
automating approval processes
visualising quotation documents
Benefit from the Advantages of a CPQ Solution
Faster Preparation of Quotations
Existing customer data as well as implemented pricing and product rules support your employees in specifying products and bundles that are suitable for the customer.
Consistent Preparation of Quotations
Customer-specific agreements are identified and automatically integrated into the quotation. Even when preparing complex quotations with different quantities, prices and discounts are always consistent.
Automated Approval Processes
If the final approval in a multi-stage approval process is not obtained, the software saves the approvals already obtained so that you do not have to go through the entire process again after making adjustments.

Exploit Cross-Selling and Upselling Opportunities
The system automatically displays available optional products to sales staff. Guided selling also increases order volumes: customers' attention is drawn to additional products of interest.
Integrate Partners into Your Own Sales Process
Navigate your sales partner through your product catalogue and ensure a smooth and transparent quotation process.
Never Miss Out on Contract Extensions
Automated contract extension offers ensure you do not miss out on contract extensions and minimise the churn rate.
We Rely on Strong CPQ Partners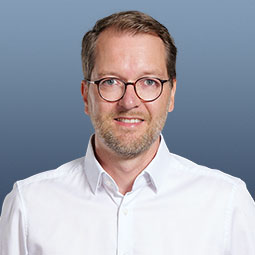 Do you want to learn more? I'm looking forward to hearing from you!
Christian Onnasch
Digital Business