Intuitively Design Your Website With


The German start-up Frontastic, which has been part of commercetools since 2021, is different from its competitors: all employees work remotely, there is no office. Frontastic completely rethinks previous forms of website creation and blurs the boundaries between e-commerce agency and CMS agency: digital experiences are created according to the modular principle and with a focus on the front end.
This makes the front-end management platform a powerful tool for taking your content commerce to the next level.
The merger with commercetools to form commercetools Frontend has resulted in additional beneficial functionalities: the headless commerce platform can be extended with ready-to-use front-end components.
The Guide to Successful Content Commerce
»Content Commerce« White Paper
Find out in our white paper how to effectively merge content and commerce.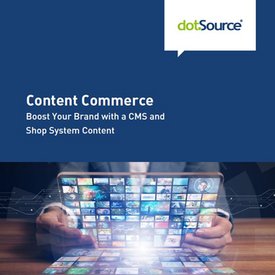 Benefits and Features of Frontastic
Mobile First
Whether smartphone, tablet or fridge – all websites designed with Frontastic are fully optimised for mobile devices or essentially progressive web apps.
Front End as a Service
Frontastic takes care of front-end deployment and scaling, allowing companies to create and manage engaging and customised user interfaces without having to dedicate in-house resources to front-end development.
Modular Principle
With ready-to-use components, Frontastic reduces the programming effort to zero. These components are called »tastics« and are available as elements in a library. They can be used to create new customer experiences in next to no time.
Usability
Frontastic is optimised for creative marketers who always want to create new experiences and compelling content for their customers.
Low Maintenance Effort
The continuous optimisation approach eliminates the need for a comprehensive redesign. This means that Frontastic supports modern deployment strategies.
Our Frontastic experts are happy to assist you in implementing modern content commerce. We take over
the development of a successful content management and content commerce strategy
the entire configuration – from basic set-up to operation of the front-end management platform
the integration of Frontastic into the existing system landscape
the training of your employees in using the front-end management platform
FAQ – Frequently Asked Questions About Frontastic
01
What is Frontastic?
Frontastic is a cloud-based platform for front-end management of e-commerce websites and applications. With Frontastic, developers and marketers can quickly and easily create and manage engaging and customised user interfaces. These are seamlessly integrated with back-end systems such as content management solutions and e-commerce software.
02
Who is Frontastic suitable for?
From start-ups to globally operating enterprises – Frontastic is ideal for companies looking to optimise their website in an efficient and timely manner. Through agile, flexible and user-friendly front-end management, personalised and compelling customer experiences can be created and managed with ease.
03
What is Frontastic's connection to commercetools?
In 2021, commercetools acquired the front-end management platform Frontastic. By doing so, the company expanded its portfolio towards composable commerce. With commercetools Frontend, it is possible for the front end and back end to communicate seamlessly. This allows companies to meet their specific requirements for different devices – according to the modular principle and without major programming effort. Further functionalities and benefits can be found on our commercetools page.
Want to learn more? I'm looking forward to your questions!