Our Intershop Services – Software Maintenance and Migration
Based on Intershop's software, we advise, develop and accompany your e-commerce project – from design to launch to maintenance and support. We also migrate your Intershop platform.
Schedule a consultation!
Our Intershop Training and Workshops
They will provide you with extensive background knowledge of Intershop's software and a basic overview of how the system works and what its standard features are.
We will also give you valuable advice that will help you to ideally prepare for the introduction and operation of the Intershop e-commerce software.
Our services in this area include:
Introduction to Intershop e-commerce solutions
Basic technical training
Client-specific training and/or workshops during the preparation and implementation phase of projects
In our training sessions, our experts will give you a detailed theoretical and practical introduction to the handling, configuration and administration of an Intershop-based online shop:
Shop configuration and administration
Setup of the catalogue and product maintenance
Sales processing and administration
Customer management
Reports and statistics
Migrating from Intershop to Other Platforms
Intershop's e-commerce software is particularly suitable for online shops with a wide range of products. It also offers the advantage of bringing together different business channels on one platform and managing them centrally.
Due to recent technological developments and trends such as:
microservices instead of monolith,
cloud software,
seamless integration with customer data management and marketing automation systems, for example SAP C/4HANA or Salesforce
we also offer migrations to more modern platforms.
We used to be Intershop Gold Partner (2006-2019)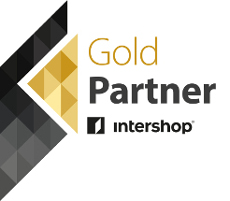 Our References in the Field of Intershop
A few clients for whom we have already realised successfully Intershop projects:
Want to learn more? I'm looking forward to hearing from you!