lolaandgrace – a fresh new jewellery and accessories brand launched in 2012 – is the creation of the Swarovski Group.
lolaandgrace offers fashion forward jewellery with a strong mix-and-match character, suitable for all moments. The qualitative yet affordable products are carefully crafted using Swarovski crystals.
They complete the outfits of women with a zest for life and give them the confidence and optimism to go out, stand out, and make the moment.


Project aims and services
Project aim
dotSource GmbH was commissioned by Swarovski Crystal Online AG with a project to convert the WordPress based online shop lolaandgrace.com to Intershop 6.4. The online shop, which until then had only been available in Great Britain, was introduced into 21 countries and implemented in responsive design.
Integration of responsive design
dotSource GmbH integrated the design from the former WordPress online shop into Intershop templates and implemented it with dynamic graphic structure from lolaandgrace.com in four different viewpoints. The challenge was to maintain the design of the WordPress online shop. The result was that the online shop automatically adjusts to the different sizes and resolutions of desktops, wide screens, tablets, and smart phones.
Conversion to Intershop 6.4
Apart from the conversion to Intershop 6.4, dotSource realised a connection to the online shop blog, which continues to be operated on the basis of content management system WordPress. Communication between these two systems can be seen as a special challenge, as they are tob e found at different locations.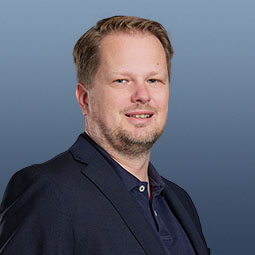 Want to learn more? I'm looking forward to hearing from you!
Markus Bartholmé